The global flexible packaging market is estimated to grow from $73.8 million in 2012 to $99.6 million by 2018, according to research group MarketsandMarkets. Players in the flexible packaging field are looking for ways to diversify their product portfolios by introducing flexible packaging alongside their rigid offerings.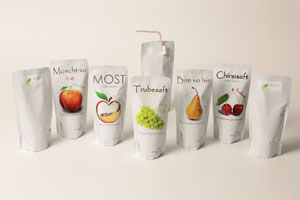 A peelable tab on the Ampac Pull Tab pouch sets the package apart from other beverage pouches. Source: Ampac.
Ampac, a flexible packaging manufacturer, has found one way to achieve this diversity. The Ampac Pull Tab stand-up beverage pouch is an alternative to the traditional straw punch-through pouch. New to the European and North American beverage market, the Pull Tab pouch provides hygienic protection of the straw hole with a tear-away pull tab label. A premade hole on the pouch is covered by a peelable label applied by a fully automatic label dispenser.
"The Ampac Pull Tab was created to give brand owners a beverage pouch option that will provide differentiation on the store shelf," says Andrea Lazzara, Ampac business development, marketing, innovation director-Europe. "The system was designed to facilitate a pouch startup business as well as high-volume producers, giving brand owners the opportunity to explore the market with real products before investing on a large financial scale."
An up to 8mm pre-made hole on the pouch body is revealed when the tab is peeled back, allowing the glued-on straw to be inserted. "The straw is inserted without piercing the pouch or causing potential germ contamination," explains Lazzara.
A stopper on the label, applied during the pouch-making process, prevents the label from detaching completely, so the pouch can be reclosed if the contents are not fully consumed.
The film is a PET/FOIL/PE structure with applications for fruit juice, smoothies, stabilized milk, and non-alcohol and non-carbonated beverages. A version for the alcohol market is currently under development. 
For more information:
Andrea Lazzara, +41 34 448 44 13, andrea.lazzara@ampaconline.com
Millie Nuno, 630-439-3160, mnuno@ampaconline.com