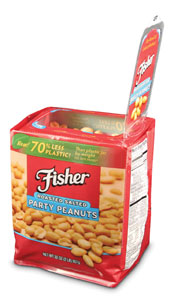 Clear Lam Packaging's new PrimaPak features a flexible, reclosable pop-up design that transports well and stacks easily on retail shelves. Source: Clear Lam Packaging.
Clear Lam Packaging, Inc.'s patented new PrimaPak pop-up box has garnered plenty of recognition as the first-ever reclosable, flexible, stackable package produced from engineered rollstock on proprietary vertical form/fill/seal (VFFS) machinery.
The packaging, utilized for Fisher Roasted Party Peanuts, has "popped up" in industry news on several recent occasions, snagging a Silver Award for packaging excellence at the 26th annual DuPont Awards for Packaging Innovation and recognition by the Institute of Packaging Professionals' (IoPP) 2014 AmeriStar Package Awards Competition in the shelf-stable food category.
First introduced at interpack 2014 in May, PrimaPak replaces heavy cans, bottles, jars, trays and some flexible packaging with a flexible, reclosable, pop-up design featuring built-in cost savings by reducing material and weight. According to Clear Lam Packaging, the technology uses up to 70 percent less plastic compared to polyethylene terephthalate (PET) jars. It also reduces the number of truck shipments, decreasing fuel consumption and greenhouse gas emissions. To promote its reduction in packaging plastic, the Fisher Roasted Party Peanuts package features a large banner, with contrasting colors for visibility, on the top of the box. 
Combining all components of the finished package into one roll of film eliminates millions of pounds of packaging waste, reducing the amount of packaging entering landfills. The end result is a pop-up box with greater brand visibility and consumer appeal than those of stand-up pouches. The finished package retains its shape, holds up during transport and stacks easily on retail shelves, making it suitable for products such as cereals, salty snacks, candy, meat, cheese, coffee, infant formula and more. The Peel and ReSeal lid system eliminates the need for preformed bases, lids, labels and shrink bands, and allows consumers to personalize serving sizes for on-the-go snacks.
"This packaging system represents the first-ever end-to-end flexible packaging solution offering a stackable, reclosable alternative to traditional structures, and we believe it's the wave of the future," says James Sanfilippo, president and CEO of Clear Lam Packaging, Inc. "Not only does the PrimaPak package provide consumers with a better user experience, the enhanced cubing translates into tangible fuel and warehouse space savings that offer multiple opportunities to reduce greenhouse gas emissions throughout the supply chain."

For more information:
Roman Forowycz, 847-439-8570, rforowycz@clearlam.com, www.clearlam.com