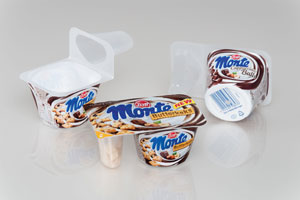 A two-cup chamber system allows consumers to mix ingredients themselves, keeping all product components separate until they are consumed. Source: Weidenhammer.
Competition in the dessert sector is fierce, making eye-catching product appearance, multiple flavor options and functional packaging indispensable. For Zott, a German dessert manufacturer founded in 1926, staying ahead of the competition means a unique, new two-cup chamber system with folding seams for its Monte desserts.
The packaging was the result of 12 months of development and testing with the Weidenhammer Packaging Group, and features a thin-walled injection technique with in-mold labeling, as well as full-cover packaging for all-around labeling.
The four dessert varieties—Cherry, Crunchy, Cappuccino Balls and Shortbread—each include Zott's Monte cream in one cup and fruit or crispy ingredients in the other. The design ensures shelf stability for the cream, as well as the fresh flavor and texture of the add-in ingredients.
The two dessert components are mixed when the consumer bends the packaging at the folding seam line just before eating.
The package is made of high-quality polypropylene to ensure the flexibility necessary for consumers to dump one cup's contents into the other without breaking the packaging. It also provides the durability required for storage and display in refrigerated cases. An aluminum membrane seal ensures optimal freshness and product protection.
An advanced in-mold labeling injection molding system manufactures and labels the high-precision plastic containers in a single step. The system features a unique, full-cover technique that enables the sides and bottom of the plastic container to be seamlessly processed without edges.

For more information:
info@weidenhammer.de; 49 (0) 62 05 / 20 3-0, www.weidenhammer.de