New Products
Technology Sourcebook
Digital sorter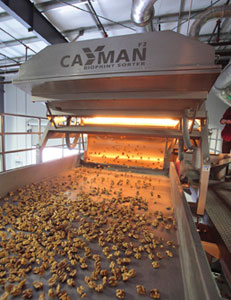 Manufactured for nut and dried fruit processors, the Key Cayman BioPrint chute-fed digital sorter combines broad-spectrum hyperspectral imaging hardware with intelligent software and algorithms to recognize the unique biological characteristics of objects; the chute feeds product in a monolayer with a consistent trajectory to the hyperspectral camera and ejection valves. The full-stainless steel/IP65 sorter includes a sanitary design, remote service via the Internet and no moving parts. It detects and removes shells, stones, sticks, hulls and other foreign material.
Key Technology, Inc.; 509-529-2161; www.key.net


I want to hear from you. Tell me how we can improve.