New Products
Technology Sourcebook
Dock shelter system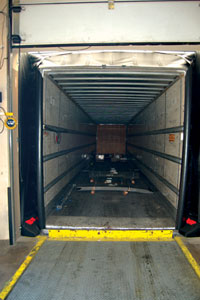 The Serco HINGE GUARD dock shelter system closes off all hinge gaps without restricting trailer access. The system is automatically activated when a trailer backs into the dock; it grasps the sides of the trailer and covers the hinge gaps to create a top-to-bottom seal. Made from impact-resistant, high-molecular-weight polyethylene, it is available with a large profile for refrigerated trailers and a smaller profile for standard trailers.
Serco; 877-933-4834; www.sercoentrematic.com


I want to hear from you. Tell me how we can improve.