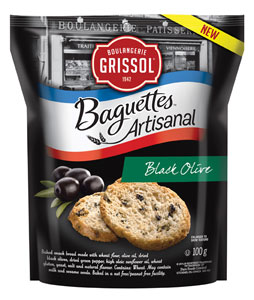 The reclosable, flexible stand-up bag provides longer shelf life and greater shelf appeal in a crowded cracker aisle. Source: Sonoco.
Standing out on store shelves is what all brands strive to attain. Sometimes doing so requires a change in packaging.
Sonoco is helping Dare Foods introduce its Boulangerie Grissol Artisanal Baguettes products flexible bag to the US market this fall, following a Canadian launch this past June.
Dare Foods, based in Kitchener, ON, wanted to move from a traditional bag-in-box format to a flexible stand-up bag to gain shelf visibility and communicate the high-end quality of its product, explains Sharayla Cleare, marketing manager, global flexibles, Sonoco.
"The new format delivers a completely different look on the shelf, plus reclosability," she says. "The flexible format also allows Dare to feature high-end graphics, including close-up photos of the product itself."
Additionally, the three-ply barrier, laminated package meets shelf-life requirements. A tear notch and simple, clean cross-tear at the top of the bag expose the press-to-close zipper.
"We have seen in our studies that consumers have a strong perception of longer shelf life and freshness when the package contains a reclosable feature," says Cleare.
Dare Foods' new Boulangerie Grissol Artisanal Baguettes products will make their US debut in Safeway grocery stores. v
For more information: Sharayla Cleare, sharayla.cleare@sonoco.com, www.sonoco.com