Recent information released by Blue Bell Creameries relating to the cause of the Listeria contamination in some of its ice cream products has a familiar ring to it—improperly maintained equipment contaminated with Listeria monocytogenes. "One of our machines produced a limited amount of frozen snacks with a potential Listeria problem," said a Blue Bell March 13, 2015 press release. According to an Associated Press report, the affected machine was an extruder that forms the ice cream into certain shapes for specific products. This was the first time in the company's 108-year history that it issued a recall, which was based on five patients over 12 months or more becoming sick and/or dying at a Kansas hospital.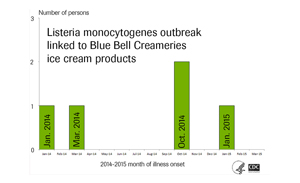 This graph details persons infected with the outbreak strains of Listeria monocytogenes by month of illness onset. Source: CDC.
Approximately four years ago, Jensen Farms' cantaloupes caused a major outbreak of Listeriosis, sickening 146 people in 28 states and killing 28. According to FDA, causes for this spread of Listeria (among other facility issues) included packing equipment that was not easily cleaned and sanitized, and washing/drying equipment that was not designed for cantaloupes, but another raw agricultural commodity. In addition, there was no pre-cooling step to remove field heat from the melons before cold storage.
On September 5, 2008, Maple Leaf Foods publicly announced the likely source of a Listeria contamination at its Bartor Road plant. "After careful study of the records, the physical plant and product test results received from the Canadian Food Inspection Agency (CFIA), internal and external experts have concluded that the most likely source was a possible collection point for bacteria located deep inside the mechanical operations of two slicing machines on lines 8 and 9. Rigorous sanitization of this equipment was completed on a daily basis in accordance with or exceeding the equipment manufacturer's recommendations. However, upon full disassembly, areas were found where bacteria may accumulate deep inside the slicing machines and avoid the sanitization process." In the Maple Leaf outbreak, 22 people died, and 57 total confirmed cases of Listeriosis were reported.
In an April 3, 2015 update, Blue Bell announced it was suspending operations at its Broken Arrow, OK manufacturing plant to determine what may have led to the contamination of some of its products.
Meanwhile, an April 3 release from CDC indicates tests on four of the patients linked their Listeriosis to Blue Bell products made at the company's Brenham, TX facility. FDA found Listeria in samples of Blue Bell Chocolate Chip Country Cookies, Great Divide Bars and individually packaged SCOOPS. Several other products made on the same line were recalled, according to a Blue Bell update on March 23. On March 22, the Kansas Department of Health & Environment reported one positive test for Listeria monocytogenes on a chocolate institutional/foodservice cup recovered from the Kansas hospital.
"Manufacturers, especially those who make refrigerated and frozen products, need to be especially vigilant about cleaning facilities and machines to make sure the food they produce is safe," said Attorney Fred Pritzker in PritzkerOlsen's Food Poisoning Bulletin. "This isn't the first time ice cream has been contaminated with Listeria monocytogenes bacteria."
According to FDA's guidance document, "Control of Listeria monocytogenes In Refrigerated or Frozen Ready-To-Eat (RF-RTE) Foods," this bacterium is one healthy, hearty critter that's nearly impossible to kill once it's in a product like lunch meat, cantaloupes or ice cream. In fact, it can thrive in cool/cold and moist environments. Therefore, proper equipment cleaning and maintenance are extremely important.
For processors seeking advice on how to prevent Listeria contamination of refrigerated foods, this FDA guidance document is a gold mine of information. It offers free and complete advice for designing, building and maintaining a processing facility with equipment that will resist Listeria contamination and, with proper maintenance and cleaning, stay clean.
To minimize the potential for Listeria contamination of RF-RTE food and food-contact surfaces, FDA recommends that processors establish and use a sanitation program that includes a written sanitation standard operating procedure (SSOP) and a sanitation maintenance schedule for areas where RF-RTE foods or food-contact surfaces are processed or exposed. A written SSOP will help new employees know what is expected of them when cleaning facilities and equipment. But having a good SSOP is not enough. An extensive, machine-specific training program can help prevent a disaster down the road.