Food Engineering's January 2018 cover story is a deep dive into IIoT technologies and the potential they have to improve business analytics and maintenance activities, fine-tune processes and extend communications across two or more plant locations in an enterprise for food and beverage processors.
However, IIoT relies on one important concept—and that is the "cloud." The cloud provides storage space, communications, analytics and much more. But knowing the cloud's limitations in terms of reliability, security and performance—and what your expectations are—will play a major role in how you design and implement a cloud-based IIoT system. What it may come down to isn't the quality, reliability or security of cloud-based applications, but the reliability of your own internet connection(s) in and out of your facility—and how you compensate for connectivity losses, either caused by power interruptions, outages or security breaches in your equipment.
"Most of the major IT companies (as well as many smaller or specialized companies) offer advanced analytics on data," says Arun Sinha, Opto 22 director, business development.
For example, IBM's Watson IoT for Connected Manufacturing promises simple condition-based monitoring, more advanced analytics via automated machine learning algorithms, comprehensive predictive models and cognitive analytics to incorporate insights from unstructured data such as voice, text, video, images and acoustics.
"Storage space provided by vendors like Amazon, Microsoft and IBM is certainly a viable option for manufacturers to reduce the costs of on-premise infrastructure like servers, storage and personnel associated with maintaining these systems," adds Sinha.
There are always some risks associated with sharing data, but these and other companies like them have a focus on data integrity and uptime. This is part of their core business and expertise.
"The decision about whether to use the cloud for IIoT applications is similar to the decision for non-industrial IoT," says Bob Mcilvride, Skkynet Cloud Systems communications manager.
Skkynet is a Control System Integrators Association (CSIA) partner member. The cloud offers more storage space and computing power, but with greater latency and less reliable connectivity. In-house (in this case, in-plant) computing gives better connectivity and more control, but may not be as convenient or cost-effective. While each method has its advantages, Mcilvride stresses the importance of a system that can work with real-time data in house and export that data to cloud-based systems for storage and decision making—what he calls a "hybrid cloud" approach.
"The cloud is great for non-real-time storage and transactions—i.e., everything above the actual plant floor, real-time control," says Eric Byres, noted industrial security expert, inventor, innovator, CEO of aDolus Inc. and ISA Fellow. "Frankly, whether my asset management server is located in the corporate IT server farm or at Amazon AWS is rather academic. Both face similar risks of communications disconnection and platform reliability. In my experience, Amazon AWS has better uptime than most corporate IT servers and in my new company, all our non-real-time transactions live at AWS. So, to put it another way, the PLC and sensors aren't likely to be in the cloud, but their data can be stored there."
In fact, many major controls companies are using the Amazons, Microsofts and IBMs of the world for a secure IIoT backbone in the cloud, and as Michael Griffith, Stellar program manager VDC says.
"I would be worried about security if you weren't using one of these big players," he says. "The security concerns are more on the implementation side of things, at the plant level."
"The cloud is perfect for long-term storage of data and for higher level data analytics," says Travis Cox, Inductive Automation co-director of sales engineering.
Systems like Amazon AWS, Microsoft Azure and IBM Watson have a lot of tools that can be leveraged.
"The cloud shouldn't be used for control, just data collection and analytics. This is safe from a process perspective since we are just sending data up to the cloud (outbound only) over a secured connection," adds Cox.
One way to send data unidirectionally to the cloud is to use an outbound-only gateway such as the Siemens MindConnect Nano or IoT 2040. These devices offer the ability to extract data from controllers and send to the cloud without opening the floodgates to outside threats, says Sean Barry, MindSphere food and beverage business developer, Siemens. These unidirectional gateway devices can be used to cloud-enable either legacy or non-Siemens controllers. MindSphere has readied software development kits (SDKs) to facilitate the connection of almost any asset already on the industrial network.

Planning for disconnects
When power goes off and communications go down, you're ready because you planned for such a crisis. Sounds simple, doesn't it?
When loss of connection occurs, Byres makes two suggestions to keep your vital systems up and running:
Build in multi-path redundancy—lots of SCADA applications like gas pipelines and the power grid have been using public infrastructure for their communications for decades. It wasn't called the "internet" back in the 60s and 70s, but it was basically the same (of course, using much slower and more costly technologies like X.25). These industries know how to make communications over public infrastructure as reliable as possible.
Be able to still function locally when Hurricanes Irma and/or Harvey drop in for a visit and all communications are lost. If you can't run your plant without Internet connectivity, you've designed your system wrong.
So how should a system be designed to prevent any outages? Mcilvride's concept of a "hybrid" system has a lot of value. Skkynet's system uses a "DMZ" to connect plant data to the cloud. With this approach, any software or hardware for any purpose, whether it'd be for storage, decision making, or any other use of the data, can be either local or cloud-based.
"We encourage IIoT users to keep all mission-critical control in-plant, not in the cloud and store all mission-critical data locally," Byres says. "We recommend that the cloud be used for monitoring and non-critical data collection, as well as supervisory control, if desired. This is because no matter what precautions are taken, you cannot prevent an occasional and unexpected loss of internet connection."
"It would be a significant oversight if companies left their data in the cloud without a local storage backup," says Eric Williams, branch manager/engineer for Process and Data Automation, a CSIA Certified Member and member of the Krones Group.
Any data that leaves the confines of the facility should be backed up locally in some form. Each cloud solution provides a mechanism for data export that can easily be integrated into any local infrastructure. Any resilient data collection implementation will plan for communication losses. A concept called "store and forward" is an implementation strategy that during a communications outage, data will be stored locally, and when communications return, the data will be forwarded to its storage home. This is the same for local storage and cloud storage, says Williams.

Getting an "edge" on communications
While Mcilvride spoke of a DMZ that sits between the cloud and on-premises equipment, perhaps a more common expression of late is an "edge device" or "edge server."
"Edge devices, responsible for the connectivity from the field to the cloud, usually have a buffer mechanism to cope with short-term connectivity loss," says Steffen Ochsenreither, business development manager, Endress+Hauser Process Solutions AG. Additionally, a backup concept to save regularly all data at a remote location should be standard for any IIoT concept.
What's an edge server and where does it reside? Kai Wang, IoT solutions architect at NEXCOM/IoT Automation Solutions Business Group, a CSIA member, explains.
"Data should always be stored in an on-site, edge server," Wang says. "Considering the edge server is an enterprise private cloud, it is screening raw data before sending it to the public cloud as backup. For this kind of application, we name it, 'hybrid cloud.'"
In the event the enterprise loses connection from the public cloud, the edge server will still function with the local intranet.
"The growth in edge computing has not only created more data, but also a greater need for speed in making that information available for other systems and analytics," says Jason Anderson, VP of business line management at Stratus Technologies, a CSIA partner member.
Cloud computing is convenient, but its connectivity often just isn't robust enough for certain industrial situations. Some computing will always need to live at the edge, such as real-time processing, decision support, SCADA functions and more.
"There's no sense in limiting these functions when 100-percent cloud adoption just isn't necessary," adds Anderson.
But, scalable cloud storage is a major component of any IIoT solution.
"The ability for smart, connected things to offload storage and computing tasks is an essential part of the architecture, however, what happens at the edge is just as critical," says Schneider Electric Software's Keith Chambers, director, operations and execution systems.
"As connected devices become smarter and more collaborative locally with other devices, we see the next computer paradigm being the hybrid cloud, where the cloud provides long-term storage, deep and rich analytics, along with edge configuration management," adds Chambers.
However, it's important to build on existing investments—a good cloud solutions provider will strengthen and complement existing on-premises software, rather than completely replacing it. Because of the sensitivity of the data, it's critical that processors select a vendor with a trusted, open solution that is regularly updated with the latest security protocols, says Chambers.
For those implementing an industrial IoT strategy, what's important to remember is to not rush into an investment decision before carefully assessing workloads and flow of information, advises Stratus' Anderson.
"The cloud is absolutely a vital component to IIoT deployments, but that doesn't mean the right decision is to immediately abandon edge computing systems that can continue to keep valuable and mission-critical information safe," says Anderson.
Striking the right balance will make or break the success industrial operators find with IIoT.
"Edge and on-premise analytics are well suited for many applications that do not require a massive influx of data to be transmitted, and this methodology provides reduced latency," says Brian Joe, Emerson Automation solutions global product manager, wireless.
Some time-critical tasks pertaining to maintenance and reliability are particularly well suited for this [on-premises] environment, especially those applications looking and analyzing the "right now."
When users start looking at large, cross-plant initiatives—the cloud can be used for both storage and analytics, adds Joe. This environment is better suited for collaboration. It also allows more flexibility when users need to scale up and are looking at continually transmitting and analyzing increasing amounts of information.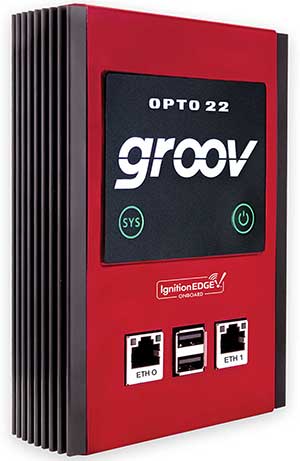 Opto 22 has partnered with Inductive Automation and Cirrus Link Solutions to extend functionality to its groov edge appliances, combining into one device visualization, data handling, security and connectivity.
"We're pleased that Opto 22's groov is one of the first edge appliances to market with Ignition Edge embedded," says Don Pearson, chief strategy officer at Inductive Automation.
A typical application for the groov edge appliance is gathering data from plant floor devices or from remote plants. An engineer places a groov device near a machine or process, uses the built-in drivers to connect to existing control systems, analyses the data and publishes the results back to a central server or broker on premises or in the cloud. Applications like Inductive Automation's Ignition Enterprise or any MQTT/Sparkplug-compliant software can subscribe to the data. This scenario eliminates complex networking architectures like VPNs, firewall configurations and remote desktop software because all communications to the broker use a secure outbound connection from control systems—whether publishing data or subscribing to it—and since groov is a complete computing appliance, no PC is required.

Costs and benefits to implementing cloud-based IIoT
Cloud computing is best suited for centrally monitoring distant facilities or systems, tracking historical data and trends, and managing complex statistical applications, says David Stonehouse, global consulting leader, Rockwell Automation Connected Enterprise Services. It's vendors like Microsoft that provide a trusted and global scale to develop and power advanced IoT solutions in the cloud, adds Stonehouse.
"The value of IIoT lies in how the data can be used to improve decisions, products or services, regardless of (but not related to) which department or application it is used," says Mike Chen, corporate engineering group manager at Omron, a CSIA partner.
The specific cloud-based or local implementation does not change the value, but will change the associated risks and cost. For example, if a single IIoT implementation is being applied to multiple geographic locations, then the benefit of centralized data analysis and staffing may outweigh the third-party cloud service cost and associated risk with data transmission.
Indeed, for manufacturers with multiple locations, several applications benefit from an IIoT platform.
"While each functional silo stands to benefit from IIoT, perhaps the greatest result is having a universal platform where not just production and scheduling, but R&D, finance and customer service can also contribute," says Berry, Siemens MindSphere.
Furthermore, pushing data to the cloud from multiple manufacturing locations presents the opportunity to compare, contrast and manage a manufacturer's global fleet.
Cloud-based IIoT systems extend visibility in new ways. Michael McEnery, PE and president of McEnery Automation, a CSIA Certified System Integrator, reports that providing real-time values of raw materials, work-in-progress and finished product to the enterprise and third-party companies can provide the following benefits:
Making available raw material inventories to suppliers can shift responsibility of raw material management to material suppliers and/or provide them with tools to better predict delivery needs.
Inventory of WIP can assist production schedulers with more accurate information for production planning.
Finished product inventory and age can provide data to sales channels to adjust sales efforts or pricing levels due to high or low inventory of products or product reaching critical age due to sell-by dates or seasonal appropriateness.
As we saw in the first article, using the cloud and IIoT technologies to monitor equipment and assets for potential failure modes is a big deal for end users, machine builders and parts makers like Festo.
"A key aspect or any IIoT architecture is the sensor level where processes are happening and from where users/stakeholders need to get information, says Sandro Quintero, Festo Corporation product manager.
With the introduction of IO-Link, control systems are becoming more flexible and easier to commission, monitor and troubleshoot, he adds.
Quintero continues: If a component on a machine is reporting an abnormal behavior, the system can notify a maintenance group and recommend actions to fix the problem based on previous experiences reported by other members of the group (perhaps a different work shift), or maintenance users can connect with technical support to get additional feedback.
While IIoT can be a boon to monitoring equipment assets, IIoT can augment the business effectiveness of a food or beverage company, says Mike Edgett, Infor industry & solution strategy director, process planning.
"[IIoT] has the potential to make your sales team more effective," he says.
With IIoT, the sales team should be able to not only place orders, but have visibility to samples being sent out and feedback received on those samples (i.e., an integration of CRM and PLM). In addition, a company that embraces IIoT technologies would also be able to quickly change production plans or notify a salesperson of any potential delivery issues.

To the future and beyond…
Technology is advancing at such a rapid pace that IIoT can deliver solutions for monitoring that may not yet have been considered. Mick McCormick, vice president of warehouse solutions for Yale Materials Handling Corporation currently uses IIoT technologies in its forklift trucks to help users with maintenance strategies and charging. But, with smart phones and watches, applications can go much further.
Select "if-then" functions available in certain IoT devices also have a substantial impact on consumer products like wearables, says McCormick. In addition to maintenance triggers, devices can work operate together, like an Apple watch and iPhone, to automatically call 911 in the event of a "care event," such as a heart attack, is detected.
Beyond automatic triggers, the next frontier is machine learning, adds McCormick. Systems can not only take action based on data meeting a certain threshold, but can judge degrees of success and continuously optimize action based on tactical characteristics. For example, an autonomous vehicle may learn to adjust its route based on time of day, expected traffic conditions and other factors.
Think this is farfetched? See this video and discover how Amazon is speeding up its warehouse operations.

For more information:
www.opto22.com
www.stellar.net
www.processanddata.com/services/data-services
www.skkynet.com
www.rockwellautomation.com
www.mceneryautomation.com
www.yale.com/north-america/en-us
https://software-solutions.schneider-electric.com/food-beverage
www.stratus.com
https://www.siemens.com/global/en/home/products/software/mindsphere.html
www.inductiveautomation.com
www.omron.com
www.us.endress.com
www.emerson.com/en-us
www.festo.us
www.nexcom.com/products/industrial-computing-solutions
www.infor.com