Food and Beverage Outlook

---
Tracking Trends and Leveraging Success Through Cloud Technology
This 2015 Food and Beverage Outlook Brief outlines food and beverage trends happening now -- and that are expected throughout 2015 -- that will affect your business. It also touches on how cloud technology can leverage them to generate higher levels of success.
The cloud can leverage both the industry and consumer categories by bringing groups of related stakeholders—suppliers, business customers, distributors, retailers, consumers—together in real time, in a secure environment, on any device, anywhere in the world.
This brief was compiled by Food Engineering and sponsored by B2B cloud platform provider Covisint Corporation of Detroit, Mich.

You will be asked to register or sign in to access the download. If you are already a signed in user, you will be taken directly to a page to download the Brief.

By downloading this pdf, you are allowing for your information to be shared with Covisint.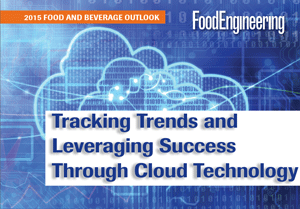 Covisint provides the B2B Cloud Platform of choice for enterprises who need to securely share, integrate and present trusted information to critical people and devices across their extended network of business partners, customers and employees – all through a single entry point.