Small- and mid-size food businesses/manufacturers (SMBs) are in dire need of automated solutions for end-of-line packaging, primary packaging or processing. "Graybeards" have a considerable presence in manufacturing, and "10,000 boomers reach retirement age every day and represent 27% of the U.S. manufacturing workforce," according to 2022 Bureau of Labor, Delottie and PEW Research. Plus, companies are experiencing a skills gap with the existing workforce, while also having challenges attracting younger workers to manufacturing jobs.
These workforce issues are minimized by food executives, too. "The interesting thing is if you watch the food segment, we've all been aware that labor's going to be an issue," says Joe Campbell, senior manager of applications development and strategic marketing at Universal Robots. "However, there are still so many senior people who believe it's a short-term problem."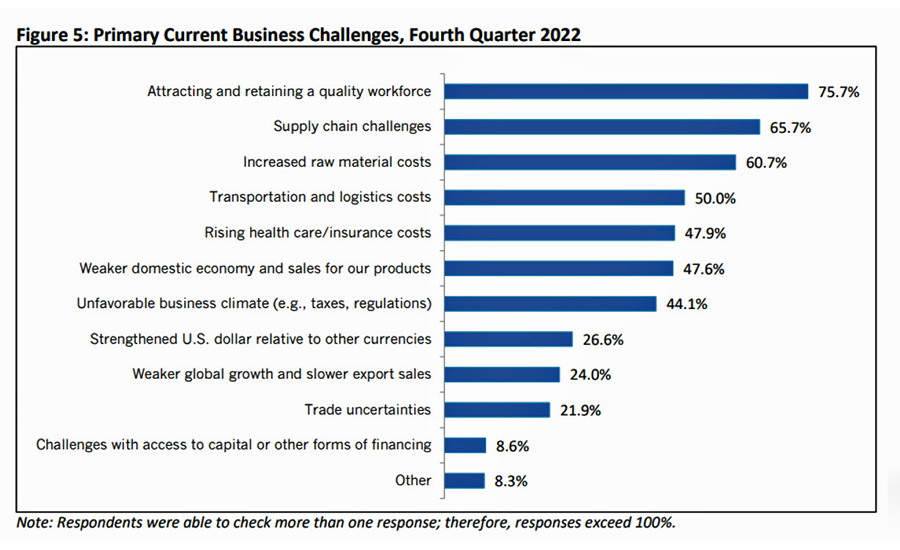 The good news is collaborative robot (cobot) applications offer incremental automation, according to Campbell, for SMB food manufacturers. Incremental automation allows SMBs to add cobots and find plant floor efficiencies while keeping capital outlays at minimum. The cobot segment within the industrial robot sector is growing, with a market share well over a billion dollars.
"The early approach to automation for food businesses was all-or-nothing (for packaging lines)," says Campbell. Universal Robots offers a range of cobots for numerous applications, including case packing, palletizing, labeling, inspection and box erecting. These applications allow food producers to quickly set up automation and solve labor issues in secondary packaging areas.
Cobots in Action
Recently, Universal Robots worked with a systems integrator, Rocketfarm AS, and Norwegian food producer Notura to create an automated palletizing solution. The working area is simply a painted space on the floor, which marks where operators place an empty pallet. "We used maybe 10 to 20% of the space that a traditional robot would have used," says Lars Bårdgard Åstveit, developer at Rocketfarm AS. "When there's no pallet there, the space is free—it's as if the palletizing system doesn't exist."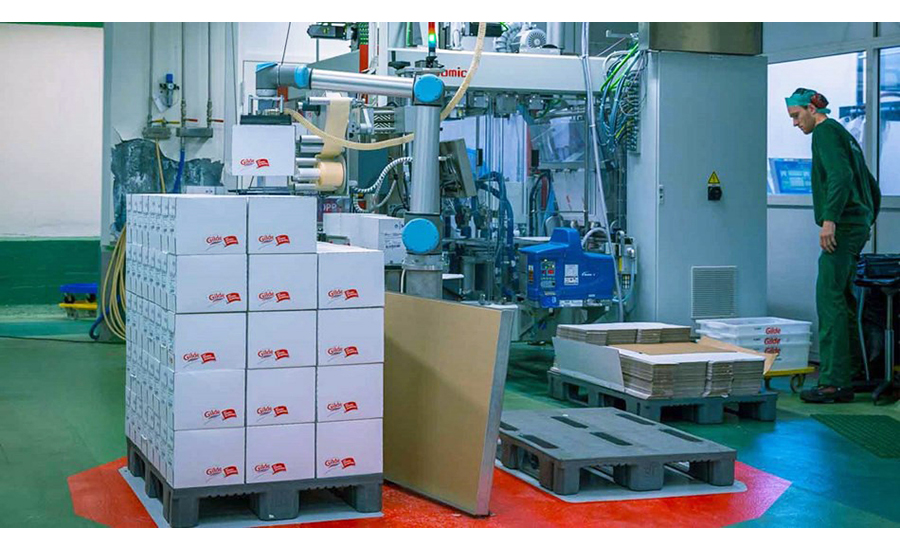 The UR10 cobot and vision system recognizes a free pallet on the floor and boxes from a conveyor belt and begins to palletize. "The system just sees it and starts palletizing," says Åstveit.
The 6-axis robot's program can be easily customized to stack different-sized boxes in any pattern that the customer requires, such as turning boxes so that the box labels are visible on all sides of the pallet. At Notura, the robot stacks an average of 20 pallets per day, for a total of 1,700 boxes per day.
After a year, Nortura invested in an additional two robots for further automation. "Installing the new robots was quick and painless, and we are thrilled with the way the robots are constructed, which allows them to operate without cages or fencing." says Unn Sjøthun Uglane, manager at Nortura SA Sogndal.
AI Makes a Splash
Artificial intelligence (AI) has been making a splash in the headlines recently. For years, machine learning has been making inroads into discrete manufacturing and process applications, where large amounts of raw and sometimes unstructured data are created. However, ChatGPT-based AI technology is different. AI-based technology looks to understand context, relevancy and how to generate human-like responses to questions.
With AI technology in mind, JLS Automation and its technology partner Smart Vision Works are trying to add more intelligence when it comes to protein picking. At the 2023 International Production and Processing Expo (IPPE), JLS demonstrated steaks being loaded into a thermoformer using JLS Automation's Talon loading system—pick and place—and Smart Vision Works' SiftAI.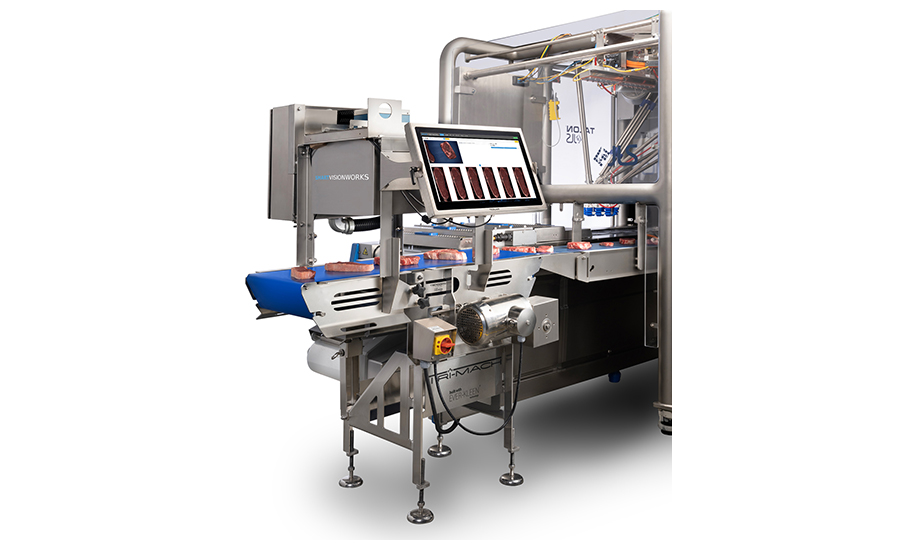 "Unlike discrete approaches, the AI vision technology is truly a learning system," says Craig Souser, president at JLS Automation. "AI-based technology excels in the gray area, when inspection is not black and white."
Traditional discrete vision inspection systems produce a pass or fail, but that's based on known meat samples. The SiftAI inspection system can manage "out-of-variance" samples and keep the line running at optimal speed.
"So companies do a lot of work implementing inspection systems with thousands of samples to determine pass or fail, but then you get one that looks a little different." says Souser. "Well, what do you do? And it's the same problem an operator will face if they see a steak cut that has a little more fat than acceptable."
The demonstration showed how the AI inspection system could be integrated upstream with JLS Automation's primary loading system to identify the appropriate cuts of protein. The inspection system uses visible light coupled with human-trained AI.
JLS Automation is looking to build on the setup shown at the IPPE show. "We showed a true standalone smart vision system connected to our pick-and-place application," says Souser. "It's a simple interface, and we're talking about taking it to the next level." Ideals include JLS Automation removing its vision system and integrating SiftAI's vision technology to assist in picking and tracking the protein. "There's no real technical barrier there, so we're really waiting for a project to justify us going ahead with and doing that," says Souser.
Speaking of Protein and Labor
Labor and protein themes keep appearing for food producers, and more companies are looking to automation as a way to keep up with volume. One market on the rise is the prepackaged sandwich market. The global prepackaged sandwich market is due to reach $18.2 billion by 2025, with a 4.9% compound annual growth rate, according to a 2019 Grand View Research, Inc.
Meeting staffing levels to meet the demand for prepackaged sandwiches has been a challenge since the Great Resignation and Covid. To meet this challenge, JMP Solutions, a systems integrator and turnkey provider based in London, Ont., created a proof of concept sandwich assembly process that features a flexible gripper and a bun management system.
"The biggest hurdle to automating a sandwich assembly is bun management," says Ray English, commercial leader at JMP Solutions.
Since the proof-of-concept automated sandwich assembly system was installed, the client has been able to significantly reduce labor pressures, while almost doubling production at an increased rate of 40%
JMP Solutions had a long-standing relationship with a prepackaged sandwich food company, and the company wanted to integrate a robotic pick-and-place solution. However, JMP could not find an off-the-shelf solution for the food company.
"We looked all over, but we weren't able to find any existing automated bun-handling systems," says English. "So, we adapted and developed an automated bun management system with help from a number of different partners."
The bun-handling system includes Fanuc LR mate 200iD/7LC clean room robots that are equipped with Soft Robotics Inc.'s mGrip elastomeric soft grippers. However, the crucial aspect in automating sandwich making is the separation of the bread bun. The new system works by advancing the bun on a series of independently controlled custom conveyor belt segments, which creates proper buffers before they enter a star-wheel mechanism. After the star wheel on the conveying line, the system separates the bun bottoms, with the top and bottom buns running on parallel conveyor belts.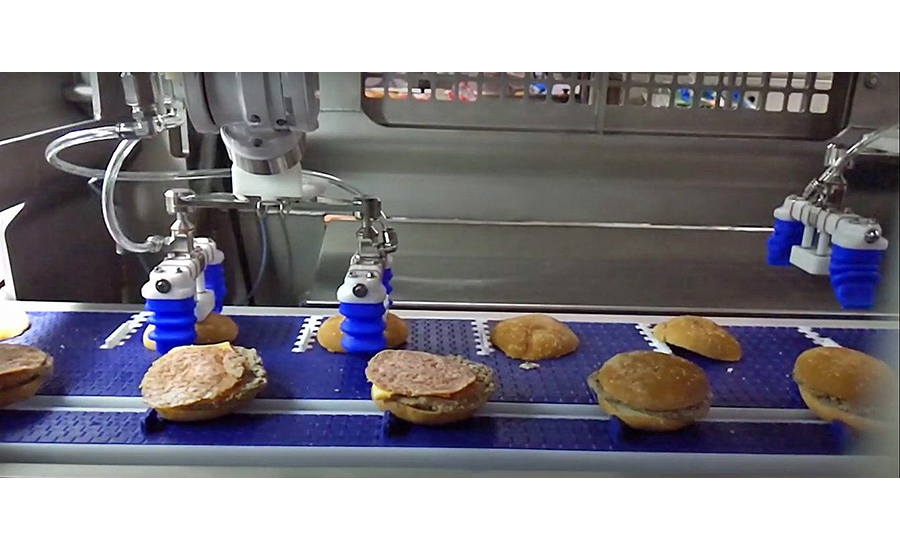 After bun separation, the next segment is the robotic workcell where the proteins are added to the bottom bun. JMP Solutions uses soft grippers due to their adaptive handling of unstructured objects that vary in shape, size and weight, such as full-muscle proteins like chicken breasts. Fanuc iRVision supplies bun position coordinates to the robots, and then the grippers choose the protein from four lanes and place one on each passing bun bottom.
Also, the robots place proteins based on bun availability, according to English.
Inspection of the protein placement is then executed, and a topping integration cell is next. This cell involves placing cheese onto the protein with an extruder and inspecting for proper sandwich assembly. Then, two more clean-room robots and grippers pick and place bun tops to complete the assembly. From there, the products move to the flow wrapper.
This particular robotic sandwich assembly line can make sixteen different sandwich types and is able to produce between 32 and 42 different SKUs for the client. Since the proof-of-concept automated sandwich assembly system was installed, the client has been able to significantly reduce labor pressures, while almost doubling production at an increased rate of 40%.
"We often build custom end-of-arm tools, and the gripper is a very effective standard tool for us," says English. "It's highly adaptable and can be placed in either parallel or circular configurations with up to six fingers to accommodate different sized products, and it's also fast compared with mechanical alternatives."
The bun handling system features IP69K Ingress Protection (IP) rating and the grippers offer protection against dust, high temperature and high-pressure water ingress.
Labor Issues Are Here to Stay
For years, the debate around automation has been seen in positive and somewhat negative light. However with recent labor issues and events, robot and cobot solutions can't come quick enough. Companies are now able to move higher-skilled workers to other more advanced workcells and sustain a company's workforce.