The next hero in food manufacturing may be the "new" robotic pick-and-place applications. For years, companies turned to robotic technologies to increase throughput at the end of line packaging or to decrease food production staffing with sophisticated pick-and-place applications. These robotic solutions have been capital intensive.
However, with advances in imaging and flexible grippers, food companies are now accessing high-volume robotic solutions for a lower capital investment. So, what are some of the applications? Irregular-shaped foods. Pineapples, potatoes and other irregular-shaped products relied on operators to pick and fill cases for years.
Market Drivers
Due to advances in imaging and gripper technology, North America robot sales in the food and consumer goods industry rose by 13% year over year in Q2 of 2022 and 40% in Q1 of 2022, according to the Association for Advancing Automation (A3). "Many companies are trying to hire right now but can't fill positions due to a lack of qualified candidates," says Alex Shikany, A3 vice president of membership and business intelligence. "Companies can't find people, so companies of all types and sizes are deploying industrial automation systems at a record pace."
While Tyson is closing plants, the company announced a productivity initiative in 2021 for automation capital projects. In 2022, Tyson Foods announced plans "to invest over $1.3 billion in capital in new automation capabilities over the next three years to increase yields, reduce labor costs and associated risks, and ultimately deliver cumulative savings." While the last couple of years have elevated labor challenges, robotics system suppliers have made strides in showcasing new robotic turnkey solutions like soft grippers and advanced imaging.

Unloading Sweet Potatoes in 1.2 Seconds per Cycle
A major sweet potato exporter in Israel looked to modernize its production line, optimize operations and avoid operator hiring challenges. To do this, the food exporter turned to robots, advanced software and flexible end-of-line gripper technology that could achieve a picking speed of 1.2 seconds. Before this turnkey solution, irregular-sized sweet potatoes would travel down a conveyor, and operators identified and placed these products in a case at different points on the conveyor.
For this project, the food exporter chose Assatec Robotics, a system integrator based in Israel, to implement a solution that achieves this 1.2-second cycle time. Assatec chose Soft Robotics' mGrip Solution, a Fanuc M-3i/6S delta robot and NSIX Vision Keys imaging software to help identify and offload sweet potatoes into cases. The IP-69-rated Soft Robotics solution relies on elastomeric plastic grippers with flexible, low-pressure holds via pneumatic controls.
"With the previous system, the gripper could hold parts that varied in shape, but we found limitations," says Or Levy, CEO of Assatec. "With this gripper, we could handle tea cakes without breaking them; without this solution, the application would not have been possible."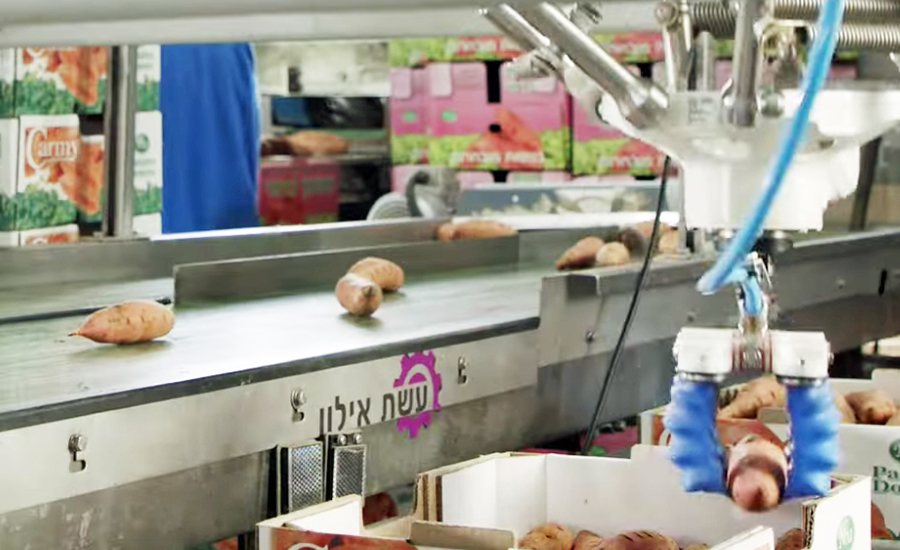 Vision Keys software runs on an industrial PC with an NVIDIA GeForce GTX 1650 graphics processing unit (GPU) that captures 3D images of the potatoes coming down the line and guides the robot on where to place the product in cases next to the conveyor line. (More NVIDIA AI news can be found here.)
Assatec developed a custom volume-fitting algorithm for sweet potato placement within the Vision Keys software. In the casing area, two additional CVK5 3D cameras capture the produce arrangement, and the software analyzes the images and decides where to put the next potato in the case. The system offloads the potatoes into the cases in 1.2 seconds.
Once a case is fully packed, the system captures another 3D image to ensure that no potatoes are sticking above the top edge of the box. If any are above, a vibratory mechanism under the box helps "even out" the potatoes, another task done previously by operators. According to Soft Robotics, this solution needs one robot to complete the work of up to four people.
Assatec Robotics also integrated a turnover conveyor for any missed product picks, ensuring the robot always chooses the most suitable potato for arrangement. Those "missed" potatoes return on the turnover conveyor to the picking cell.
"While this particular system works with sweet potatoes, [it could handle] oranges, pineapples or any other type of fruit or vegetable," says Levy. "With our algorithms, gripper, and 3D vision, our system can handle nearly any type of produce, which opens up new possibilities in automation."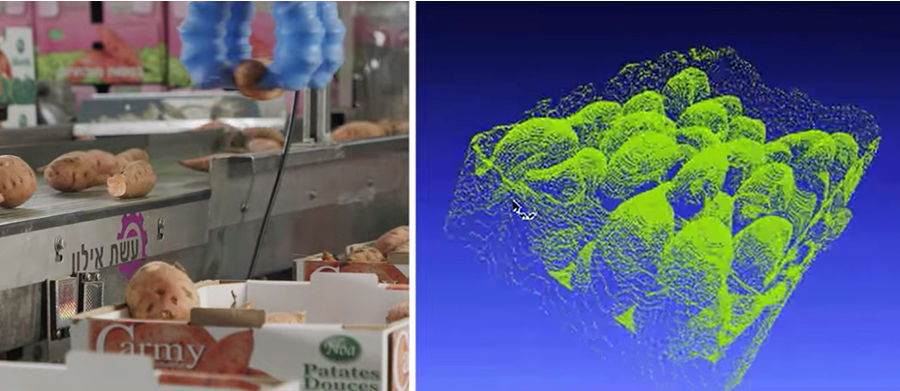 With this in mind, the solution also features custom-made recipes for various sweet potato sizes produced each growing season. The category sizes include small, medium and large, and decision making is done automatically by the software alone, but the algorithm and gripper setup are changed accordingly.
New Possibilities
While artificial intelligence (AI) is the buzzword in manufacturing, these new turnkey robotic solutions should open up new markets for suppliers in the food segment. True, the hero may be AI in ten years, but for now, these lower-cost automation solutions will address many issues for food producers.