Supply chain executives in the food and beverage industry are faced with considerable challenges when balancing production runs, inventory volumes and delivery schedules. Warehouse managers are increasingly required to store more products in existing warehouses, to retrieve them faster for growing volumes of just-in-time orders to retail stores, make more efficient productive use of labor, reduce energy consumption and improve cost efficiencies. 
Space utilization within production warehouses is at a premium, and these facilities are consistently running out of space. Finished products are frequently stacked on floors and aisles, which contributes to increased fork truck accidents and equipment damage, spillage and damaged products, and lost and expired inventory. The continuous increase in the cost of land, construction, labor and facilities has put a heightened demand on space utilization within these production warehouses. 
These factors have forced food and beverage manufacturers into utilizing 3PLs or renting outside space to store manufactured products. But this presents a new set of issues. Although most contemporary 3PLs run highly-efficient operations, transporting pallets of product to off-site storage incurs rental costs, increased transportation costs, and loss of last-touch product control which can increase product damage and returns.
Consequently, manufacturers are more closely looking at their distribution and storage models, and how they can more optimally balance their inventory against production and delivery. 
A growing number of manufacturers are moving away from utilizing fork trucks, and instead employing fleets of laser-guided vehicles (LGVs). Similarly, they are shifting their high-volume, palletized SKUs away from stationary rack storage locations, away from floor staging, and away from remote warehousing sites. Instead, they are embracing highly-automated, robotic shuttle-based pallet deep-storage systems, which provide excellent density and flexibility to fit within existing variable-ceiling-height facilities. 
Niagara Bottling's Automated Distribution
One such manufacturer is Niagara Bottling, LLC (Niagara). Based in Diamond Bar, Calif., Niagara is a leading beverage bottler in the U.S., supplying major retailers across the nation. The company is the largest provider of private label bottled water in America. Family owned since 1963, Niagara owns and operates 35 combined production/distribution facilities throughout the U.S., Canada and Mexico, bottling purified water, spring water, distilled water, alkaline water, sparkling water, its V-ssentials brand vitamin enhanced water and Tea Joy brand bottled tea.
In 2010, Niagara selected E80 Group (E80) to fully automate each of its distribution operations. E80 develops automated logistics solutions for consumer goods manufacturing and distribution, with a focus on integrated robotic systems, such as laser-guided vehicles (LGVs), robotic palletizing, layer picking and repacking, and automated storage and retrieval (AS/RS) high-density warehouses. The company has considerable experience in food and beverage. 
"For our warehouse automation we were using forklifts, double front end forklifts, to move our product around," says Bill Hall, executive VP manufacturing & engineering at Niagara. "In 2009 I was touring a plant that had E80 LGVs in operation, and I thought we could apply LGVs in our distribution. I was particularly interested in loading pallets onto trucks with LGVs for shipping, which E80 LGVs were capable of doing. We had E80 automate one of our plants and have continued partnering with them to automate our remaining facilities." 
Since 2010, E80 has automated the distribution operations of Niagara's 35 plants with fleets of unmanned LGVs moving pallet loads from end-of-line bottling throughout all phases of distribution, including pallet rack storage, floor staging for shipping, and loading directly into truck trailers for shipping. 
"The LGVs floor stack everything in our facilities," adds Hall. "They handle 2,500 lb. pallets of water, while each of our facilities are making 50-60 turns of inventory annually."
These distribution functions are standardized for each of these facilities, and custom-integrated with E80's Smart Decision Maker (SDM) warehouse control system (WCS), which ties into Niagara's ERP within each plant. All distribution functions are fully coordinated and controlled by E80's SDM, enabling very streamlined robotic pallet handling.
Rialto DC: A Model for Robotic Pallet Movement and Storage
Niagara's latest plant in Rialto, Calif., is the company's biggest and most complex, producing 120,000 bottles of water and beverages per hour, 24/7/365, and employing a fleet of 56 E80 LGVs to move the palleted water and beverages through the warehouse into pallet rack storage and shipping. 
Opened as a greenfield in 2016 servicing the Southern California market, the facility not only handles water, but also hot-fill beverages and soft drinks. In 2019 the plant planned to add three new process lines, bringing the total to nine lines, which would have eliminated too much of the facility's storage space. Essentially, more product would be produced than the warehouse, and its off-site storage locations, could store—multiple offsite locations were already being used for supplemental finished-product storage. Niagara wanted to reduce the Rialto plant's dependency on external warehouse space, while maintaining more control over the speed of delivery to its customers. The bottler turned to E80 to design a solution.
"We outgrew the Rialto facility very quickly and wanted to maximize the square footage of the building on the site," says Hall. "We looked at real estate expansion, but it was cost prohibitive in the Southern California market, so we decided to go with vertical storage inside of the building. Once we made that decision, we looked at three or four different suppliers, including E80 who has always been one of our preferred partners. We felt technology-wise, cost-wise and execution-wise E80 was the right choice."
"The E80 engineering group, in conjunction with Niagara's logistics team, evaluated multiple options," says Luigi Dallasta, key account manager for E80. "We developed and assessed simulated models comparing different automated solutions to verify their functionality and process optimization."
High-Density Storage, Robotic Pallet Shuttle System
The solution proposed by the E80 team was to design a customized version of its SmartStore solution to be installed inside the Rialto distribution space. Essentially, a high-density 160,000-sq.-ft.five-level, mobile robotic shuttle-based storage and retrieval system (AS/RS), with 33,000 pallet positions, designed for deep storage of palletized loads. The system would consist of five modular sections that can be expanded or contracted by adding or deleting pallet positions and shuttles, as future requirements may require. This would replace the existing pallet racking in the warehouse.\
"Although the SmartStore provided an ideal solution for pallet storage at the Rialto facility, it posed a significant challenge to execute the transition," says Dallasta. "The challenge was two-fold. First, we had to build SmartStore within an existing building, and determine the module configurations to take full advantage of the space in the most efficient way, factoring in existing ceiling heights and supporting columns. Quite different from a greenfield solution."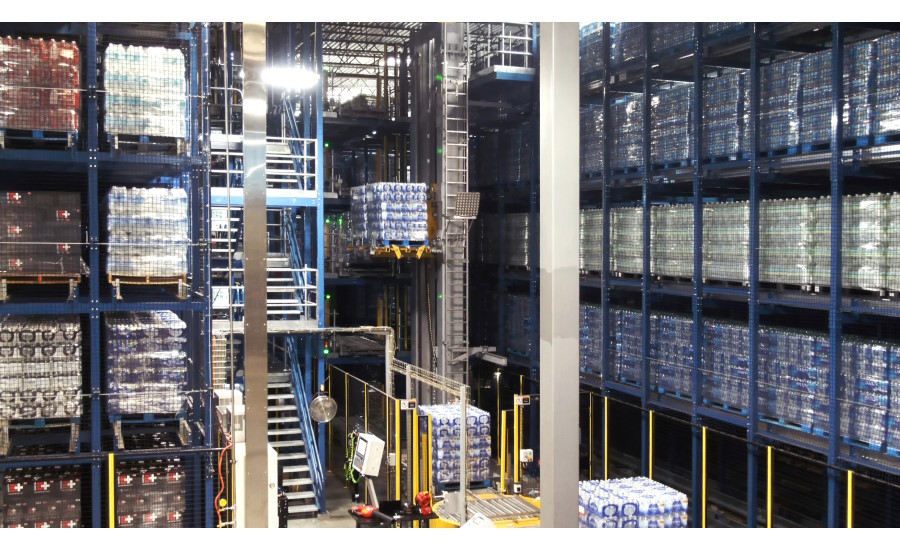 Rialto's high-density SmartStore with 33,000 pallet locations. Image courtesy of E80
The second challenge was that this distribution facility was a high-volume working plant. Bottling production and distribution could not stop. The project needed to be executed with minimum impact on the working operation of the plant, a considerable challenge. 
"During installation of SmartStore we expected to have some interruption of our existing throughput because we never could really shut the entire factory down," says Hall. "We timed it to where the interruptions were during the off season to minimize the impact. E80 worked with us to keep the interruption down to about 20 percent of throughput at any given time. The modularity of SmartStore is what allowed us to continue to run during installation."
The SmartStore solution delivers an option in automated pallet storage that is truly unique. By providing a dynamic combination of high density and high throughput, it enables a high-performance, lean and modular warehouse storage solution, designed to maximize capacity in either high-bay or lower-ceiling-height facilities, whether greenfield or brownfield sites. This is ideal for manufacturers in the food and beverage industries, like Niagara, whose operations demand flexible, high-density storage for high-volume SKU counts, and particularly those SKUs affected by seasonal volume fluctuations.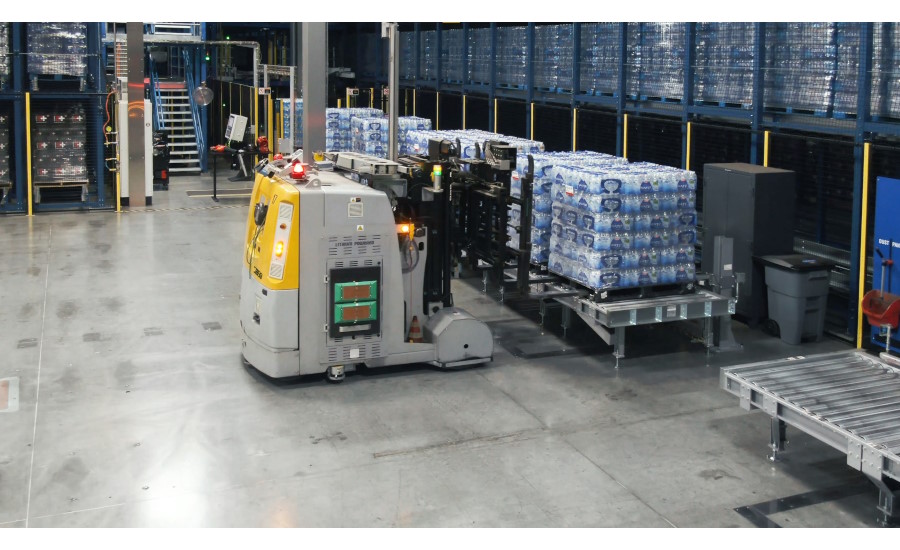 LGVs transfer pallets into and out of SmartStore. Image courtesy of E80
Palletized product is stored in five modules of highly dense rows, up to 20 pallets deep of the same SKUs. Lithium-ion battery-powered shuttles traveling at speeds up to 10 feet per second (fps) transport pallets within the system's aisles and rows. The shuttles carry a satellite on board that collects and transports the pallets in the channels of the rack, recharging the battery at the same time. Lifts and transfer stations vertically move pallets between aisle levels. The result is a solution of maximized storage density, operating frequencies and system modularity.
"SmartStore has proved to be a very dependable and repeatable ASRS solution," says Hall. "We are thrilled with the outcome."
Laser-Guided Vehicle Fleet
The Rialto warehouse fleet of 56 LGVs incorporate the most recent automation developments in laser-guided vehicles for pallet movement. Utilizing a combination of logic software and wireless navigation, these LGVs can perform tasks that are not possible with other transport systems—such as the uniform movement and positioning of pallet loads to within a fraction of an inch of their designated targets, without noise, and with a high degree of safety for workers and their operational environment. 
"Most of the LGVs operating in the Rialto warehouse are transporting pallets, two at a time, from the nine stretch wrapper discharge locations in the end-of-line bottling area to the high-density storage induction platforms, or directly to floor staging in shipping," says Dallasta. "Similarly, these LGVs transport pallets from high-density storage to floor staging in shipping. All pallets staged in shipping are loaded directly into trucking trailers with LGVs."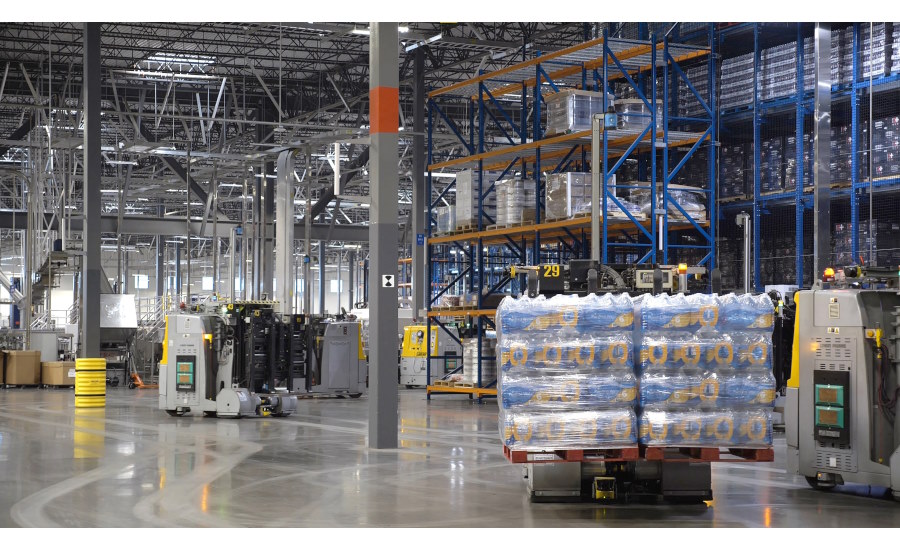 Dual pallet movement with the model CB30 Dual Drive LGV. Image courtesy of E80
These LGVs are E80 model CB30 Dual Drive, with extendable forks and dual side-by-side pallet carrying capability. They can lift pallets to a height of 31 feet, with a lift capacity of up to 6,000 pounds, and a maximum speed of 4.9 feet per second.
The second type of LGV in operation in the Rialto warehouse is the E80 model Reach. It is utilized to store and supply raw material pallets to the bottling floor with items such as corrugated for packaging machines, stretch wrapper film, and ingredients for carbonated beverages. The pallets in the raw materials warehouse are stored in racks 4-5 levels high.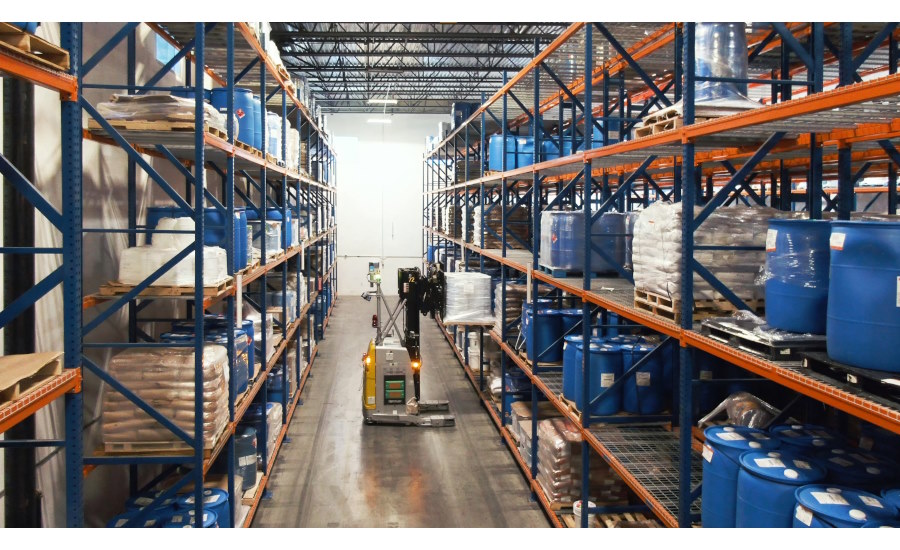 LGVs provide automated storage and movement of raw materials. Image courtesy of E80
The Reach LGV is a single-pallet vehicle with extendable forks for double-deep pallet storage. Used for selective storage systems where the LGV's forks allow it to pick and place multiple product codes. It can lift pallets to a height of 39 feet, with a lift capacity of up to 6,000 pounds, and a top speed of 4.9 feet per second. The vehicle is designed to maneuver in tight spaces with a turning radius of 10.2 feet. 
Lithium-Ion Flash Battery Technology
"A key factor in LGV operation is battery performance, which directly influences energy usage," says Dallasta. "Some of the latest technology advances in lithium-ion chemistries have made LGVs particularly attractive with reduced energy consumption. One of these is lithium Flash-Battery technology, which is in use with the LGVs at Rialto."
Introduced for use with LGVs by E80, lithium Flash Battery technology, developed by Flash Battery Srl, provides a higher level of performance than other batteries for industrial vehicles. Flash Battery technology uses the safest and most stable chemistry available, lithium iron phosphate (LiFePO4), which is cobalt-free (material with high environmental impact) and delivers well-defined performance and long-term stability. Having a very constant discharge voltage, Flash Battery technology allows the LGV to maintain the same performance at every state of charge.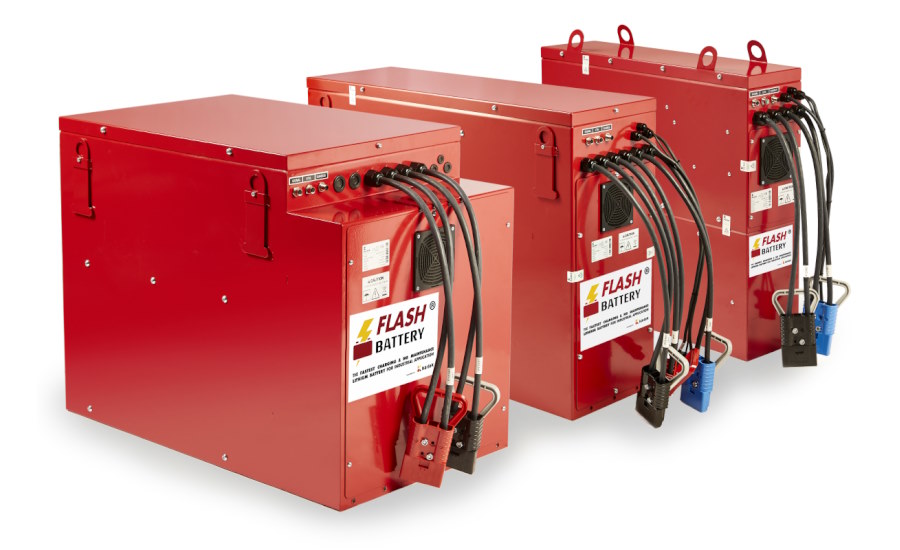 Rialto's LGVs are powered by Lithium Flash Battery technology. Image courtesy of E80
The cells in a lithium battery are not all the same and have small differences in capacity, internal resistance and self-discharge. These differences lead to an imbalance among them. The response of conventional systems is to perform long balancing charges several times a week, which translate into dozens of hours a week of LGV downtime at charging stations. To avoid these problems and keep efficiency high, Flash Battery electronics employs a patented high-power balancing system, with active and passive mode, 20 times faster than conventional balancing. This allows the cells to be equalized in just a few tens of minutes once every 2-3 weeks. Only one lithium Flash Battery is required for each LGV, with an expected lifetime ranging from 6 to 10 years depending on the consumption of the specific plant. 
Supporting the performance of the Rialto facility's fleet of LGVs and its Flash Battery technology, E80's Flash Data Center continually monitors and controls every battery of the fleet integrated system to ensure the LGV network maintains its battery potential in peak performance to maintain LGV uptime and efficiency. 
"The availability of these LGV assets is really high," says Hall. "This LGV technology does really well in a repetitive manufacturing and logistics environment, like Niagara's. Keeping our assets in prime operating condition is one of the key pillars we believe in at Niagara that drives our manufacturing culture, safety culture and maintenance culture. E80's Flash Data Center fully supports this initiative."
Integrated Warehouse Controls
The smooth functioning of Rialto's LGV fleet and SmartStore is dependent on E80's SDM WCS, which coordinates orders received from the plant's ERP, then directs the work to the LGVs and SmartStore to execute. SDM controls the traffic of the LGVs in the warehouse, and where pallets will be stored in SmartStore and shipping. 
"SDM ensures that the automated systems (LGVs and shuttles) are used in the most efficient way to distribute the workload to available resources, optimize LGV routes and balance throughput and product distribution in SmartStore," says Dallasta. "The WCS also plans product movement between different warehouse areas to maximize warehouse saturation. It identifies opportunities for optimization and defragmentation as required."
It ensures the integrated and automated management of systems and flows, communicating with the nine bottling line palletizers and wrappers. The entire logistics flow of the distribution environment is centrally managed from one integrated logistics platform that manages the coordination and optimization of all operations. The SDM controls system guarantees total product traceability and safety throughout the Rialto facility's supply chain. 
Niagara has standardized on the SDM WCS not only in its Rialto warehouse, but in all of its plants. This integrated standardization has streamlined and supported the company's overall efficiency.
"The SDM software is really performing well for our inventory, tracking and visibility, well above 99 percent accuracy in all of our facilities," explained Hall. "It is fully integrated straight to our ERP, so all of the information is automatically handed off between SDM and our ERP. It gives us confidence in our finished goods inventory, and is an easy tool to use at the facility level as well as for our senior management at our headquarters."
Performance
Fully operational since June 2021, the benefits to Niagara's Rialto distribution facility include elimination of downtime, mistakes and product damage; reduced distribution costs; shorter delivery times; and improved sustainability of the warehouse's supply chain.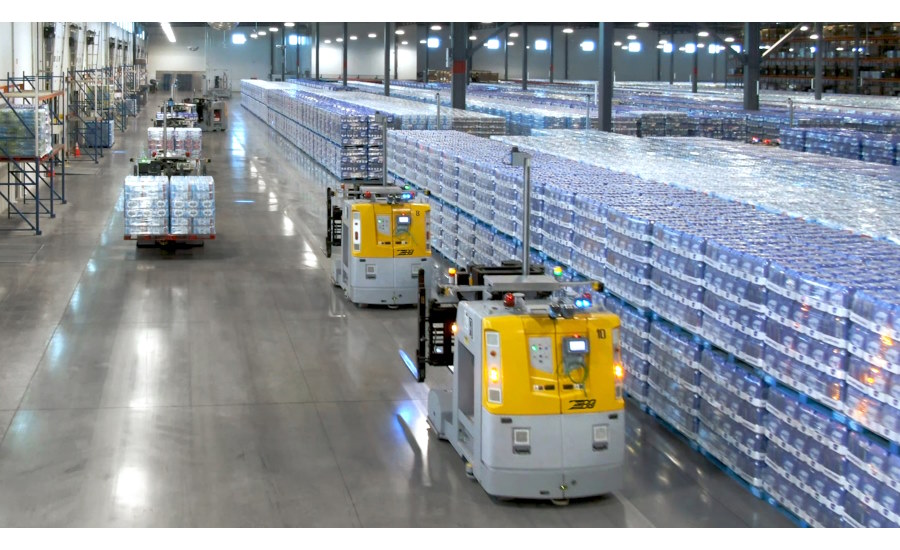 LGVs maneuver pallets to and from block staging for shipping. Image courtesy of E80
Niagara builds approximately five new facilities each year. Each operation needs to utilize its square footage optimally. Turnaround and process time is very important. How fast it can turn a truck through its facilities is critical.
"This facility not only has the most advanced high-speed bottling lines, it now boasts a warehouse of system-optimized flexibility, modularity and scalability, says Dallasta." 
"E80 automation has taken the warehouse from 40 square feet per pallet position down to 20 square feet per pallet position," says Hall. "It has taken mission time from 12 minutes down to 6 to 7 minutes. LGVs require less traffic to do the same job."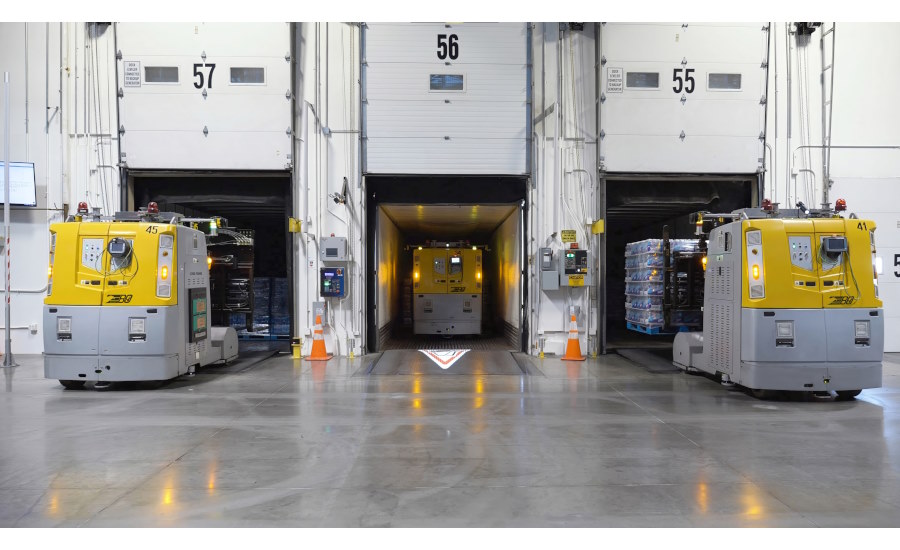 Unmanned LGVs load pallets into trucks in shipping. Image courtesy of E80
"It is all very seamless," says Hall. "This is one of the beautiful things about choosing E80 for our LGVs and SmartStore. The LGVs are upstream and downstream of SmartStore, and E80 is handling all of the transactions. The integration is really very easy for our leadership team."
Over the last 20 years Niagara has become the biggest water company in the U.S.," says Hall. "Maybe, by volume, the biggest in the world. Now, for the first time in our history we are transitioning from a strictly water company to beverage company. Automation will continue to play a central role in our facilities as we expand into new markets."