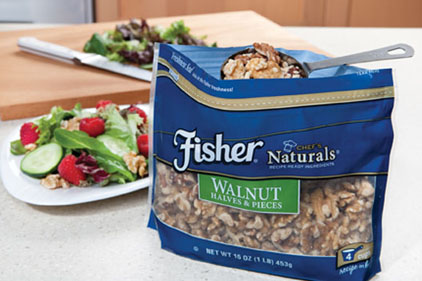 A resealable stand-up pouch with a wide mouth for easier scooping adds greater convenience to Fisher Nuts for baking. Source: John B. Sanfilippo & Son Inc.
Convenience and freshness preservation are the drivers behind a new resealable pouch for baking nuts from Fisher Nuts, a division of John B. Sanfilippo & Son Inc., Elgin, IL.
An expandable bottom helps the bag stand upright, while the wide opening makes it easier for bakers to scoop walnuts, pecans, almonds or raw peanuts out of the bag. The resealable strip is included on bags ranging from 2 oz. to 16 oz.
The pouch was designed and produced by Clear Lam Packaging Inc. The Elk Grove Village, IL supplier has some ownership ties to Sanfilippo and is located in close proximity to some of the food company's production sites.

For more information
Roman Forowycz, Clear Lam Packaging Inc.,
847-439-8570, rforowycz@clearlam.com