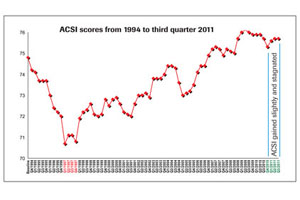 The measure of how satisfied American consumers are with food, pet food and other necessities has stagnated, according to the latest American Customer Satisfaction Index (ACSI). The ACSI is apparently stuck in neutral for the third quarter of 2011, yielding an unchanged 75.7 on a 0-to-100-point scale. ACSI says the lackluster performance mirrors the economy and frail markets. Where numbers are down doesn't necessarily mean that consumers are having issues with quality; cost increases have been the typical reason for slipping satisfaction.
Condiment purveyor Heinz, however, is doing a good job at pleasing its customers and has been leading the food industry for 12 years in consumer satisfaction. This year, according to ACSI, satisfaction with the company's food products rose 1 percent to 89 on the ACSI scale. The processor rated number one among ACSI's 225-plus measured food companies. Food manufacturing as a whole is stalled at 81, following last year's decline in the face of rising food costs.
"When there is little or no industry growth, the only way for many companies to expand is to take market share from competition," says Claes Fornell, founder of the ACSI. "In an anemic labor market with tight household budgets, this leads to more price competition, deflationary pressure and a further weakening of the aggregate demand. The best defense a company can have against competitive efforts to take market share is to have satisfied customers."
Results are mixed for individual food processors, with an even number of gainers and losers; three processors have unchanged scores. Mars (+2 percent) placed second at 87, but its score is well ahead of Hershey (-2 percent) and Nestlé (unchanged) at 84. Like Hershey, PepsiCo's Quaker brand slipped 2 percent to 84, while four processors tied at 83 (ConAgra, Dole, General Mills and Kraft). Customer satisfaction with this latter group is generally static (changes of 0 to 1 percent) with the exception of Kraft (+3 percent).
Sara Lee and Campbell Soup—down 4 percent to 82 and 79 respectively—had the largest decrease in customer satisfaction. The loss pushes Campbell Soup to the bottom and into a tie with Tyson (+3 percent) and the aggregate of smaller food producers (-1 percent). ACSI assumes cost is the likely reason for Sara Lee's decline as consumers encounter prices that average 10 percent higher on the company's big-name brands such as Ball Park and Jimmy Dean. Likewise, Campbell has raised its prices in response to cost increases at a time when competing soup labels have kept their prices the same.
Pet foods are showing similar issues. The customer satisfaction of consumers who purchase pet food has slipped a second year, down 1.2 percent to 82. The decline at the industry level has been driven by drops of Mars Petcare and the aggregate of smaller pet food companies. In 2010, both Mars and the smaller brands led the category with a score of 85. After a drop of 4 percent to a score of 82, the smaller pet food companies have tied with the industry average while Mars fell a steep 6 percent to last place with a score of 80. ACSI says price has played a key role in depressed satisfaction.
With a 2 percent gain, premium brand Hill's Pet Nutrition (Colgate-Palmolive) has taken the industry lead with a score of 84 while Procter & Gamble's premium offering, Iams, gained 1 percent to reach a score of 81. Del Monte lost 1 percent, and Nestlé Purina PetCare, which remained unchanged, rounded out the industry with scores in the middle at 82.
As a point of reference, the current study also compares athletic shoes and apparel. As a group, makers of athletic footwear showed the only gain in customer satisfaction among the four industries reported in the study with a 1.3 percent increase to 81. The apparel industry took an almost -4 percent hit and had an overall ACSI score of 80.
The ACSI was started in 1994, and has generally trended upward except for 1997 when it plunged. "For much of the 1990s customer satisfaction fell," says Fornell. "Companies tried to improve profit margins by cost cutting, especially in customer service. As a result, there was a large and sustained drop in the ACSI. 
"However, in sectors where service plays less of a role (most non-durable products, including food products), the impact was much less and customer satisfaction held steady," adds Fornell.