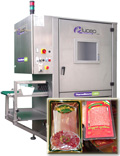 The Luceo ThermoSecure L300 video inspection system checks meat and package quality at D'Autore. Source: Luceo Inspection Systems.
Italian meat producer, D'Autore, is a perfectionist when it comes to the quality of its packaged meat products, which include cured ham, bresaola, salami and other deli items. Its single, highly automated facility in Castelnuovo Rangone employs 35 people, where products are packed for private-label customers as well as the D'Autore brand.
To assist in maintaining high quality, the processor wanted to develop a zero tolerance for errors in product quality while increasing production rates. This was a case where machine vision could outperform human eyes, not only in checking for quality but also in maintaining a consistent level of performance.
"We needed to install a system capable of detecting a number of potential problems with the trays that could arise on packing lines with an extremely high daily throughput, and which are operated by a number of different teams," says I. Maroni, plant director. "We wanted to inspect for the presence of product in the seal area and the incorrect positioning or absence of the label. The two determining factors that led us to consider a computer vision system have been our desire to increase productivity and to apply quality control procedures that are compatible with the high quality levels that we are seeking."
Initially, D'Autore turned to local Italian equipment suppliers, but found none of the proposed solutions satisfactory. D'Autore reviewed vision inspection equipment used at other food processors and decided to look at Luceo systems.
One important factor in choosing Luceo was the assistance and responsiveness the supplier was able to offer. Luceo was able to test and monitor the system while it was in operation on production lines running at normal production rates. The vision system was also flexible enough to inspect a wide variety of trays in a range of formats, films and colors.
D'Autore chose to install a ThermoSecure L300 system. The system's software is simple to use and provides data archiving, traceability and quality assurance features.
The vision system is capable of inspecting all formats, and looks for the following defects:
The presence of product in the seal
The presence or absence of a label on the upper surface of the tray
The presence or absence of the use-by-date (UBD), with readout of the printed date and verification it is correct
Verification of the bar code on the tray
Verification of correct film and correct film centering
Presence of white fat particles in a darker product such as ham.
"The main requirement that we imposed on Luceo was a margin of error of zero," says Maroni. "Our new ThermoSecure system not only achieves this zero tolerance level, it also detects errors that are missed by the operators who cannot be expected to check so many packages passing by so quickly, especially towards the end of a long shift."
Quality assurance is an important foundation of D'Autore's business. "We now have the ability to generate reports and statistics, either in real time or later in the process, to highlight specific production problems," adds Maroni. "This is a fundamental requirement in improving production planning and reacting to problems."
D'Autore reports several benefits of the new video inspection system. Production has increased by approximately 20 percent, and product quality has been improved with a zero tolerance for errors.
For more information: Julia Mann, Luceo, 832-516-8125, j.mann@luceo-inspection.com, Web site.