Four Star Fruit, a Delano, CA grower of premium table grapes, is committed to innovative business practices and a healthier environment and society. The family-owned company also has been growing at a rapid pace—20 percent from 2008 through 2010, and its power consumption doubled in that time.
"We were looking ahead at trends and noted that energy prices were predicted to increase from 2009 through 2014," says Jesse Munguia, Four Star Fruit's cold storage operations manager. "Since we use a very large amount of electricity during three critical months of the grape season, we wanted to get on top of this issue."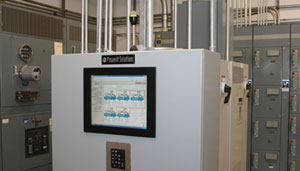 Full-facility monitoring and control are available from this Spara EMS panel in Four Star Fruit's main electrical control room, or via any network-connected computer with appropriate permissions. Source: Powerit Solutions.
A complicating factor is that grape room temperatures must be maintained at varying levels, and getting them right is essential to maintaining product quality. "Our grapes come in off the field at different times and then are sorted and treated differently based on their ultimate use, so the grape rooms have a wide array of temperature needs that must be closely managed," explains Munguia.
In mid-May 2010, Four Star Fruit installed Powerit Solutions' Spara energy management system to help it drive down electricity costs and reduce its production facility's environmental footprint. Spara allows Four Star Fruit to manage temperatures in the grape rooms more effectively.
With Spara, Four Star Fruit implemented demand control (the process of understanding where and when costly energy spikes occur and taking precisely timed measures to reduce them or shift them to non-peak rate hours) and Auto-DR (automated demand response, an advanced utility program that pays users to reduce electricity consumption upon demand at times to be determined in the future). 
"We saw a 16 percent reduction in our electric bills, of which 8 percent is attributed to increased energy efficiency and 5 percent to decreasing our peak demand use," says Munguia. Plus, the produce company receives ongoing revenue from its participation in demand response (DR) programs through EnerNOC, an aggregator, which offsets 3 percent of the bill.
ROI on the system was impressive: The system paid for itself in less than two months thanks to incentive programs through Four Star Fruit's local utility, Southern California Edison, which paid for 96 percent of the project. 
"Achieving the 16 percent reduction in our bill has been great and was more than we anticipated based on the original estimate from Powerit," he says. "Getting the monthly checks from EnerNOC is a plus, too. Also, we appreciate knowing that our growth isn't hampered by escalating energy costs, thanks to the system. 
"As an engineer, the one thing I really appreciate about the Powerit system is the kind of visibility I have into my operations. It's such a powerful tool with real-time advantages. For example, with Spara, I know instantaneously through alarms if a pump is not working or a fan broke, and I can have it fixed right away."
Munguia also appreciates the ongoing suggestions from Powerit on how Four Star Fruit can continue to fine-tune Spara to wring more savings from the system.
"The best part is that I know the temperature of each grape room—the quality control experience has taken us into the 21st century," says Munguia. 
For more information:
Carlos Rodriquez, 408-430-6388,
carlosr@poweritsolutions.com