Recognized as the largest privately owned dairy manufacturer in the industry, Grassland Dairy takes in milk from more than 900 local, family-operated farms. It produces a variety of dairy items such as powdered and condensed milk, as well as salted and unsalted butter products, which are sold through 300 private labels, including nationally known brands.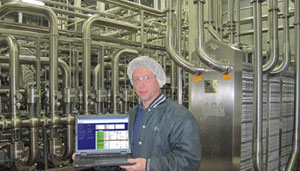 Jim Hills connects to Smartware's Bigfoot CMMS to get a handle on what his 25-man maintenance crew should be tackling next. Source: Grassland Dairy
Keeping the machinery humming is no small feat for the 25-member maintenance staff, as Grassland's facilities include the main Greenwood, WI plant plus sister plants in West Point, NE; Hyrum, UT; and Graf Creamery in Zachow, WI. But keeping track of all the equipment has been made easier with a computerized maintenance management system (CMMS). 
Jim Hills, assistant corporate maintenance manager, recounts the early days before the CMMS software. During an ordinary day shift at the main plant, the butter machine slowed down to a crawl. The problem: lack of regularly scheduled maintenance. As production ground to a halt, Hills would frantically search the sprawling 100-acre plant until he found a maintenance technician to replace the worn components and get things running again.
That kind of experience led Hills to explore methods for improving maintenance of the dairy's vast web of machinery. And in that process, he discovered the world of CMMS. One that stood out to him was Bigfoot, produced by the Smartware Group, Inc. The dairy now uses it to automate a variety of maintenance tasks at the Grassland facilities, including a preventive maintenance (PM) scheduling system for more than 1,500 pieces of equipment and an inventory database for 8,000-plus replacement parts.
"We tried to keep track of everything on paper," says Hills. "We tried meetings or simply assigning mechanics tasks based on memory. But within three months, all of our maintenance information would disappear. Now, we have a preventive maintenance schedule set up through Bigfoot for a wide variety of equipment, so we no longer have those kinds of problems."
Hills says the CMMS has been instrumental in helping his department simplify maintenance of Grassland's two central testing labs and its array of testing equipment, which includes not only water ionizers, water filtration systems and air quality systems, but also metal detectors to monitor products for incidental foreign objects.
The data provided by the CMMS also gives Hills quick access to the information his customers require for numerous quality assurance (QA) plant audits. "Lab personnel pull samples constantly because all of our products are heavily monitored through QA," says Hills.
Besides the evaporator systems and high-towered vacuums that separate moisture from milk fat to produce condensed and powdered milk, Hills and his staff must also make sure that "quick doors" and roll-up doors maintain air-tight seals between the warm and cold rooms. More than 30 HVAC systems help regulate temperature and air quality throughout the facilities.
"Because of Bigfoot," Hills says, "we're saving 33 percent annually on our budgetary spending." v<br><br>
For more information:
Marc Bromberg, Smartware Group, 866-858-7800, ext. 88, marc.bromberg@bigfootcmms.com