New Products
Technology Sourcebook
Horizontal motion conveyor
Used for fragile, seasoned, coated and frozen food products, the Key Horizon horizontal motion conveyor has a maintenance-free mechanical drive that moves product at speeds up to 42 ft./min. on a single continuous conveyor up to 100-ft. long. The conveyor provides minimal vertical product acceleration; its horizontal motion produces a continuous self-cleaning action, preventing buildup of coatings, oils or seasonings as product slides along the pan. Product flow rates and flow direction can both be controlled.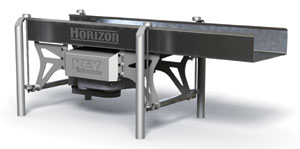 Reversing product flow allows the unit to feed 2 different directions from 1 system. The conveyor can be custom designed in widths from 12 to 60 in. and mounted to the floor or other machinery or suspended from the ceiling. The drive can be mounted anywhere along the conveyor pan, including underneath or behind to "push" the conveyor or in front to "pull" the conveyor.

Key Technology, Inc.; www.key.net




I want to hear from you. Tell me how we can improve.