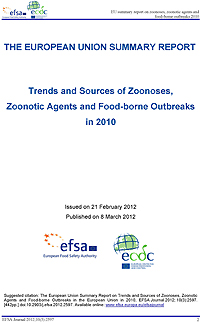 The European Food Safety Authority (EFSA) and the European Centre for Disease Prevention and Control (ECDC) published their annual report on zoonoses (diseases capable of being transmitted by a vector between animals and humans) and foodborne outbreaks in the European Union for 2010. The report shows that Salmonella cases in humans fell by almost 9 percent in 2010, marking a decrease for the sixth consecutive year. Salmonella prevalence in poultry is also clearly declining at the EU level.
Campylobacteriosis remains the most reported zoonotic infection in humans since 2005, and the number of cases has been increasing over the last five years. The report supports the European Commission and EU member states in their consideration of possible measures to protect consumers from risks related to zoonoses.
"The positive progress in the reduction of Salmonella cases in humans and poultry is continuing, and the majority of member states met the targets set for the reduction of Salmonella in different poultry flocks in 2010," says Claudia Heppner, EFSA's acting director of risk assessment and scientific assistance.
Johan Giesecke, chief scientist at ECDC, notes, "The increasing trends in human cases of Campylobacter highlight the need of further joint efforts. For this, EFSA and ECDC will continue to strengthen their links with all important partners and foster collaboration in order to decrease the occurrence of these diseases in the EU."
In 2010, a total of 212,064 Campylobacter cases in humans were reported, an increase for the fifth consecutive year with 7 percent more cases compared to 2009. In food products, Campylobacter was mostly found in raw poultry meat. To combat Campylobacter, the European Commission is currently carrying out a cost-benefit analysis of the control measures for the bacterium at different stages of the food chain.
Listeria infections in humans showed a slight decrease with 1,601 confirmed cases in 2010. In 2013, EFSA will be analyzing the results of an EU-wide baseline survey on Listeria in ready-to-eat foods including smoked fish, heat-treated meat products and soft and semi-soft cheeses, which will provide further valuable information on its prevalence and the factors contributing to it in these high-risk foods.
The report also gives an overview of other foodborne diseases. Human cases of Shiga toxin/verotoxin-producing Escherichia coli (STEC/VTEC) have been increasing since 2008 and amounted to 4,000 reported cases in 2010. Among animals and food products, VTEC was most often reported in cattle and their meat.
The full version of the report with data by country and annexes is available on EFSA and ECDC websites.