The dawn of the PLC Age in plant automation came three decades ago, greatly simplifying the wiring and integration challenges food engineers faced. But nothing lasts forever, including the venerable PLC, which is gradually giving way to the programmable automation controller (PAC).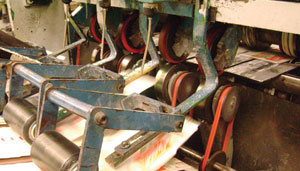 The controls architecture at Evergreen Packaging's Olmstead Falls, OH printing and converting facility is being overhauled, resulting in a safer and more productive work environment. Source: Evergreen Packaging.
Evergreen Packaging's printing and converting facility in Olmstead Falls, OH had an early PLC installation, with a previous owner financing an automation upgrade 30 years ago. Time and technology had left the plant behind, however, before a decision to gut the existing controls architecture and install a new system was made. Design and installation took six months, though the related improvements have stretched the project to three years, according to Richard Stewart, senior project engineer at the Cleveland area plant.
The facility specializes in paperboard cartons, fabricating about 400,000 containers an hour in sizes ranging from four-oz. cartons for school milk programs to 64-oz. gable top units. Eight lines run 24/7, but outdated drives and obsolete software turned them into troubleshooting nightmares. Programming and configuring a line for a new carton was a five-step struggle, Stewart recalls, and relay logic still controlled the carton sealers. Today, "many of the changes needed are made through an HMI, and the operators do them," he says. "That gives the operators better control over the process, which is nice."
Operator changeovers and troubleshooting without drilling through multiple screens by a computer engineer are an obvious improvement from the days of the PLC, observes Leo Petrokonis, OEM business manager-packaging in Rockwell Automation Inc.'s Lancaster, PA office. Simplified changeover and operation are fundamental advantages of the Allen-Bradley CompactLogix PAC installed at Evergreen, but another essential element of the enabling technology is the Ethernet IP communications network that ties together motion control, safety controls, drives and discreet devices. By bundling and integrating all those systems, "you have the power of data," says Petrokonis.
The panels that house Evergreen's new hardware require about half the space as the old panels, says Stewart, and those panels rest on in-demand real estate on the shop floor. Since the new control technology was deployed, uptime has increased by about 25 percent, though the impact on OEE won't be determined until a data historian is up and running. "It's still a work in progress," Stewart adds: While the initial conversion was a six-month effort, the overall automation upgrade has entered its fourth year.  
For more information:
Leo Petrokonis, Rockwell Automation Inc.,
414-382-2000, lpetrokonis@ra.rockwell.com