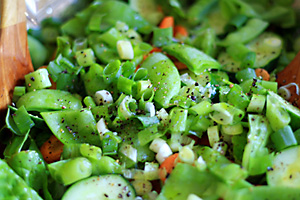 Listeria monocytogenes is back in the news with US and Canadian recalls from River Ranch, Salinas, CA. The recalls affect various salad products, which may be contaminated with Listeria. While Listeriosis is not a death sentence to healthy adults, it can be a killer of elderly people, pregnant women and newborns with weakened immune systems.
Interventions with anti-Listeria phages can be used to address post-lethality contaminations of Listeria monocytogenes underalternative-2 or alternative-1 anti-Listeria protocols defined by USDA/FSIS, according to Mark Offerhaus, Micreos CEO. A rapid 1-3 log reduction of Listeria can be achieved on food and contact surfaces. "Though this should be seen as an integral part of proper hygiene, rather than a replacement of control systems, it enables food processors to take safety to a different level," says Offerhaus. Micreos is a Dutch supplier of phage products.
Offerhaus' product can be applied in the production of ham, sausages, hot dogs, ground meat and smoked products. It's considered a processing aid under USDA directive 7120 and needs no labeling. Therefore, it can also be used for both natural and organic products.
Other effective methods of non-thermal pasteurization can also be applied to combat bacteria. Quantum Foods, a further processor of proteins, completed installation of a USDA- and FDA-approved high-pressure pasteurization (HPP) system, which protects against harmful bacteria without affecting a protein's taste, texture, appearance or nutritional value. HPP is an all-natural, environmentally friendly technology that uses intense hydrostatic pressure to deactivate and destroy harmful bacteria in foods.
"HPP allows Quantum Foods to deliver on our promise to keep our products safe without compromising the taste or nutritional value," says Edward Bleka, president, CEO and founder.
Quantum Foods uses an HPP system from NC Hyperbaric on its foods, resulting in proteins that are 100 percent natural with no preservatives, no added nitrites and no artificial colors or flavors.
HPP expansion in the US
The market for HPP in North America is apparently expanding as Avure Technologies, a pioneer in HPP, is expanding its manufacturing capacity by bringing a new US facility online by the end of 2012. The supplier believes that establishing a North American manufacturing operation is a key step in building the global infrastructure to support the rapidly expanding food market for HPP equipment.
"We have sustainable growth in all of our product lines," says Pat Adams, Avure president and CEO. "We announced in April 2012 that we would organize the company into two divisions, and this expansion allows us to add technical and production capacity."
Besides making HPP equipment for the food industry, the supplier also makes isostatic, metal-forming and specialty presses. The new production facility will be located near the company's headquarters in Franklin, TN, just outside of Nashville.