Dry Processing
Expandable bulk bag filler system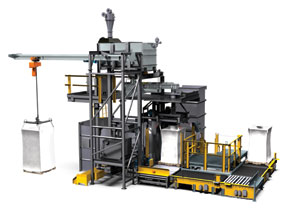 National Bulk Equipment's bulk bag filler system receives input material from an integrated bulk bag unloader, includes an integrated bag dump station and a vibratory conveyor system, and enables the material processing operation to effectively transition to an automated, 20,000 lb./hr., bulk bag filling process from a relatively low-capacity, operator-intensive, 50-lb. bag filling system. The primary ingredient, supplied from downstream pneumatic conveying, is introduced to the bulk bag filling process through a 24-in. wide, 304-2b SS vibratory conveyor with a total material supply capacity of 20,000 lbs./hr.
National Bulk Equipment, Inc.; 616-399-2220; www.nbe-inc.com


I want to hear from you. Tell me how we can improve.