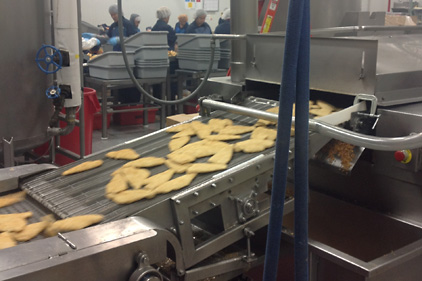 Fish fillets move along the line at Northwest Seafood, which keeps running because the maintenance staff uses a mobile CMMS to be instantly responsive to machine problems. Source: eMaint.
Northwest Seafood had tried two other computer maintenance management systems (CMMS) in the past, but neither supported bar codes or enabled users to enter purchase orders from mobile devices. Bar-coding is used in all parts of Northwest's facility, where technicians "swipe" the parts they use for work orders instead of typing part numbers manually or calling for purchase orders.
Searching for a mobile solution, Northwest looked at and purchased eMaint Enterprises X3 mobile CMMS software. Within days of implementation, Northwest Seafood was able to import inventory data, integrate its current bar-coding system and get purchase orders up and running on mobile devices.
"We are extremely pleased with the almost-instant success of the eMaint X3 system," says Frank Valdez, Northwest Seafood assistant plant engineer. "We have been searching for a system that would allow us to go mobile and find and enter purchase orders anytime, anywhere as well as implement a more efficient bar-coding system. We were able to solve these problems with the X3 system within days. eMaint has a niche with CMMS systems, and everyone we work with there is very flexible and responsive."
With the previous CMMS systems implemented at Northwest Seafood, the maintenance team had to use handheld scanners when working. Team members also had to call in for purchase orders and could not go out to buy something without contacting the office for purchase orders. The new system allows all of this to be done from any mobile device. Primary work orders are also done in X3.
The CMMS can be tailored to meet the exact specifications of any maintenance, facilities or operations department and provides users with better organizing, planning and managing of maintenance activities. This results in less equipment downtime, greater return on assets and improved efficiency, productivity and profitability.
"Our primary goals are maintenance, upkeep, production and uptime," says Valdez. "With these goals already being met, we can put almost all of our effort into making sure all our suppliers and processors are following safety and quality control standards as well as staying true to our motto, 'healthy, fresh, simple and sustainable.'"
For more information, contact Gene Pargas, eMaint, 856-810-2700.