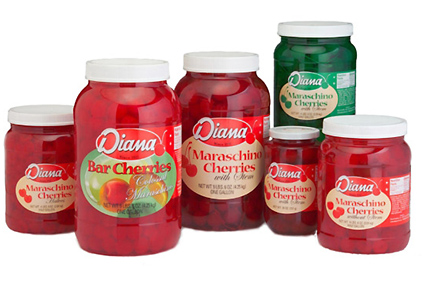 The familiar labels on Diana maraschino cherry jars conjure a long tradition and memories for many customers. Source: Creative Labels.
What's in a label that completes a jar of pasta sauce, a bottle of juice, a bag of treats or one of the thousands of other products you may use through the course of a year? Sometimes a label is the flag bearer for a long product history that's somehow made an impact on you; often the label may connect you to a slice of life.
"The label is so important, because it's the billboard for your product," says Daryl Isaacs, purchasing manager of Santa Cruz Nutritionals in northern California. Design and a certain look and feel that identify the brand are key components of labeling, of course. But Isaacs understands there's a lot more behind a label.
In production and packaging, labeling likely is one of the last applications before a package is complete, whether filling a bag on a vertical form and fill seal line or packing a master case, Isaacs explains.
"It's just absolutely imperative to have a high-quality label from the backing to the roll stock to the adhesive," says Isaacs. Any issues with a label—from a label not adhering to a package to ink that comes off the label—may lead to potential rework and repack. This means lost productivity, decreased efficiency and increased scrap.
Beginning as a snack manufacturer, Santa Cruz Nutritionals has evolved to its current iteration as a producer of vitamin-enriched gummy products. Over the years, hundreds of product lines have been produced and shipped in a wide array of packaging formats, all of which require a variety of label applications. Gilroy, CA-based Creative Labels, Inc. has been instrumental in meeting the dynamic and ever-changing label requirements of Santa Cruz Nutritionals, and has worked with the company to make the best decisions on labeling, ultimately delivering the highest-quality roll stock, according to Isaacs.
Getting to that end product means navigating a label production planning process and carefully working through a variety of considerations, says Isaacs. This includes determining whether the label requires a permanent or nonpermanent adhesive, how many colors need to be used in the printing process and on what sort of material (for example, acrylic, PET bottles, flexible polyester packaging or corrugated shippers) the label will be applied, among other considerations. Santa Cruz Nutritionals has many ongoing projects and essentially fills customer orders to demand and some to forecast.
For more information, contact Creative Labels, Inc., 866-552-2357