Remco Products Corporation, founded by Richard L. Garrison in Zionsville, IN, designed and constructed a one-piece polypropylene shovel more than 30 years ago. Today, Remco serves a prominent group of distributors in a variety of markets, ranging from food processing and pharmaceuticals to safety and manufacturing.
Over the course of more than three decades, Remco has experimented with various resins and additives to make its core product line stronger, easier to handle and better suited for rigorous FDA compliance measures. A few years ago, Remco took another step to serve its food processing customers by working with its molder, Metro Plastics, to incorporate metal-detectable materials into its line of plastic food processing tools.
The Remco Plastic Moldings Division predominately consists of injection-molded polypropylene products. The debut of a one-piece shovel 30 years ago was the genesis of a product line that now includes a dozen shovel models, hand scoops, hand scrapers, bench scrapers, food hoes, mixing paddles, hazmat squeegees and handles, a ceiling squeegee system and three sizes of kart tubs with related undercarriages.
Plastic particulates can make their way into food products in numerous ways. Fruits and vegetables such as melons, peaches, apples, strawberries, carrots and onion pieces can pick up plastic when the plastic tote bins or containers are damaged by rough handling. Or, for example, olives in a vat can pick up inconspicuous particles from a plastic shovel or scraper that breaks, leaving small pieces that make their way into downstream processing. These pieces are often invisible to X-ray and magnetic detection systems.
Major restaurant chains are insisting that food processors use metal- and X-ray-detectable plastic and rubber articles. In fact this has become part of many processors' HACCP (Hazard Analysis Critical Control Point) programs. Magnetic additives are a good solution for maintaining HACCP requirements, safeguarding consumers and protecting brand reputation.
The inclusion of the Eriez's PolyMag magnetic additive during the manufacturing of these products ensures that if fragments of plastic contaminate food products, they can be easily identified by standard metal detection equipment. "Food processors are offered peace of mind that if plastic tool fragments should somehow taint a food product, the contamination can be detected through the standard metal detectors in place, provided they are properly calibrated," says Michael Garrison, president of Remco Products.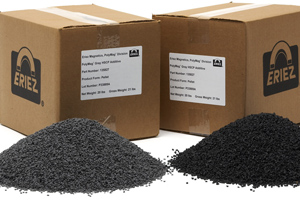 Eriez's PolyMag pellets are blended with plastic products to be detectable with magnetic and X-ray detection systems. Source: Eriez.
The ability to scan, identify and quickly remove plastic contaminants is essential and even critical in food processing operations, according to Garrison. "We constantly strive to introduce products that provide solutions for our customers. Metal-detectable items are good examples of this. The food industry has requested metal-detectable products because of the increased emphasis on material handling hygiene and prevention of contamination of any kind in their food products.
"At first, offering metal-detectable tools was a niche market for us," recalls Garrison. "Food processors need to show due diligence in preventing contamination, so our products are getting more exposure in the marketplace, thanks to the additive."
Remco was introduced to Eriez and its PolyMag additives through its molder, Metro Plastics. "Metro suggested we look at metal-detectable options a few years ago," explains Garrison. "That's when we met with Eriez and went from there."
To determine Remco's needs, Eriez conducted testing to zero in on the correct loading for Remco's products to provide a high level of detectability at an economical price. Three or four trials were conducted, which looked at different loadings that would yield detectability similar to the compound Remco used previously.
The FDA-compliant additives impart metal detectability, X-ray contrast and magnetic susceptibility into plastic moldings to protect consumers from plastic-contaminated food products. The magnetic additives are available in a non-dusting pellet, giving molders and extruders the ability to produce metal-detectable and X-ray visible plastic parts for items used in food contact applications, including scoops, paddles, scrapers, shovels and more.
"Anywhere along the processing line, you are trying to prevent all types of contamination. That's especially true when you are handling material using scrapers, shovels, hand scoops and other tools," Remco's Garrison says. "Metal detection is not going away because, in most cases, food processors have to practice risk mitigation. They want to be involved in the entire process, and a lot of these end-users are becoming more aware of our metal-detectable products."