New Products
Technology Sourcebook
Even chill system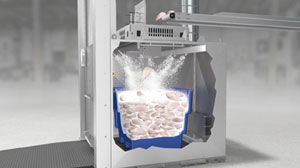 Engineered for bulk product chilling, the Praxair ColdFront even chill system automates CO2 snow delivery to deliver consistent product temperatures for packing large volumes of product in bulk bins; the PLC control system can be adjusted to provide the optimum CO2 ratio to chill a variety of poultry, seafood and meat products. Manufactured and accepted under the new USDA sanitation standards, the unit handles medium- and high-production rate systems.
Praxair, Inc.; www.praxair.com


I want to hear from you. Tell me how we can improve.