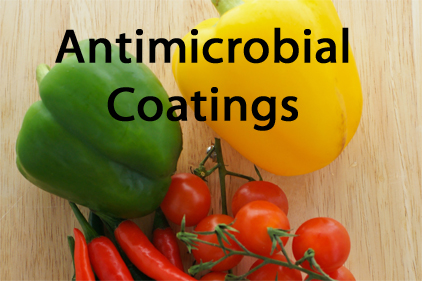 New technological advances in antimicrobial coatings for food products may hold promise in extending shelf life, reducing packaging layers and meeting food safety and quality requirements. Emerging research shows polysaccharides, bacteriocins, essential oils, enzymes, proteins and lipids are all natural antimicrobials that may have unrealized potential in food packaging applications.
A new report from Frost & Sullivan details strategies for antimicrobial technology development and integration, as well as an overview of the technology and relevant industry trends.
Although antimicrobials are commonly used in packaging, their use as direct food coatings has not been widespread. One obstacle is in the selection of an antimicrobial agent, as different substances will be appropriate for particular products and their required shelf life. However, researchers say they have observed a shift toward natural antimicrobials over synthetic versions that can be attributed to a growing preference for natural extracts in food processing and preservation.
"The use of functional food ingredients as active agents in food antimicrobial coatings will increase due to a growing focus on food safety and standards, and end-user preference for natural ingredients," says research analyst Aarthi Janakiraman. "However, the use of metallic ions and synthetics will remain prolific, caused by the gap between research efforts pertaining to the development of natural extracts and their commercial use, such as antimicrobials."
Fresh fruit and vegetables are most susceptible to microbial contamination, followed by meat, poultry and seafood products. Because of the diversity of products requiring antimicrobial protection, a variety of substances will be utilized in antimicrobial technology. Consequently, researchers say technical challenges will need to be addressed before natural antimicrobial coatings can be employed across all segments of food preservation, but use of polysaccharides and bacteriocins is already growing.

For more information, contact Frost & Sullivan.