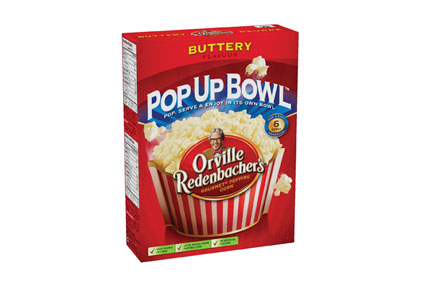 ConAgra Foods Canada launches three-, six- and 10-count packs of Orville Redenbacher's microwave popcorn in Pop Up Bowl packaging. Source: ConAgra Foods Canada.
A gusseted bowl design with a tear-strip opening moves to Canada to replace the traditional bag for Orville Redenbacher's microwaveable popcorn. 
Developed by ConAgra and introduced several years ago in the US market, the Pop Up Bowl's wider mouth, sturdier sides and transparent top and bottom provide a stable serving "dish." 
"The Pop Up Bowl bag transforms into a wide-brimmed bowl right in the microwave so a separate bowl is not required, making snack sharing and cleanup easier for popcorn lovers," says Dan Skinner, manager, PR/social media, ConAgra Foods. The design not only eliminates the need to wash serving bowls after use, but also prevents the oily fingers resulting from contact with residue inside the bag. 
After removing the Pop Up Bowl from the microwave, the consumer simply tears off the top to access the warm popcorn. "When it comes to snacking, consumers are looking for something easy, delicious and convenient," explains Harminder Singh, brand manager for Orville Redenbacher's Canada, part of ConAgra Foods Canada, Inc. in Mississauga, ON. "With the launch of the Pop Up Bowl, grabbing a snack and sharing it with family and friends is a breeze." 
Rollout plans call for the top-selling Buttery and Smart Pop! flavors to make the transition to the Pop Up Bowl first, followed by Extra Buttery, Light Buttery and Select White flavors. Cartons feature updated graphics customized for the Canadian market.