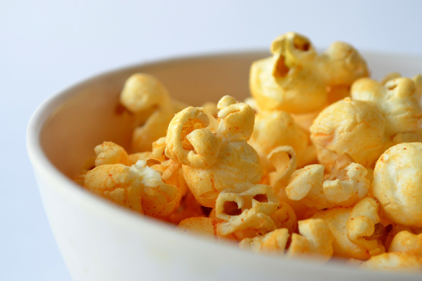 Often dismissed as a boring packaged food category with minimal growth, popcorn is primed for a comeback and has burst back to life, transforming the US food industry, according to a new report from Rabobank called "The Popcorn Blockbuster."
But the snack isn't making its resurgence in traditional ways like in the microwave popcorn market or movie theater snack category. Rather, the area with the most growth is in the pre-popped ready-to-eat popcorn segment, which Rabobank says is now giving the dominating potato chip industry a challenge.
"For a long time, popcorn was the somewhat unhealthy snack of choice for moviegoers and couch potatoes," said Nicholas Fereday, executive director and senior analyst of food and consumer trends for Rabobank. "Now, new popcorn players are finding ways to appeal to changing lifestyles and tastes, revitalizing popcorn as a healthy and convenient snack."
The Rabobank report highlights five movie-inspired takeaways from this popcorn transformation that those in the food chain can benefit from:
Back to the Future: Tired brands and off-trend categories should take inspiration from the astonishing turnaround in the fortunes of popcorn. What was once considered an unhealthy junk food has been transformed into a Millennial-friendly, cool, and healthy snack. Equally important, it reminds us of what we call The Iron Law of Consumption: convenience trumps everything, even fresh.
While You Were Sleeping: The major popcorn players have been caught napping. Within the explosive RTE popcorn market, it is the small innovative companies that have the growing brands and are doing most of the running. The major players can still get involved, but like a baby boomer's pension plan, although it is never too late to invest, they will have to work twice as hard to catch up.
The Usual Suspects: Today's popular trends have tags such as 'natural, organic or gluten-free'. RTE popcorn has taken full advantage of this.
Some Like It Hot: Sriracha popcorn anyone? As consumers' palates grow increasingly adventurous for bolder flavors—often inspired by ethnic cuisines—the potential for this new popcorn platform is enormous.
 Field of Dreams: Down on the farm, popcorn could well be the next high-value crop for farmers frustrated by low margins and volatile commodity markets. This is a great time for food processors to connect with farmers looking to explore new markets and escape the commodity treadmill.