Nearly all packages will carry a How2Recycle Label by 2016 if the developer of the labeling system achieves its goal. The label, developed by the Sustainable Packaging Coalition (SPC), a project of GreenBlue, Charlottesville, VA, also will boost package recycling rates and divert waste from landfills. The voluntary labeling system provides explicit instructions to help consumers recycle and identifies nonrecyclable packaging components.
Several food processors, including Kellogg Co. and General Mills, have adopted the label. Results from early adopters indicate the label is understood by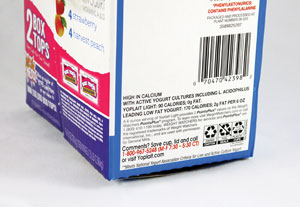 consumers, prompts action, elicits positive impressions of products and companies and meets FTC green labeling requirements. In addition, the label helps food processors understand the specific recyclability of their packaging.
"This long-term SPC project is poised to make a significant impact," says GreenBlue Senior Manager Anne Bedarf who, with GreenBlue Project Associate Danielle Peacock, has led the development of the How2Recycle Label. "With the revision of the FTC's Green Guides, attention again has turned to accurate and transparent recyclability messaging, and the SPC's How2Recycle Label is quickly becoming the industry standard. We designed the business model with a tiered structure to encourage participation by businesses of all sizes, and we look forward to working with a diverse group of forward-thinking companies and stakeholders as we enter the next phase."
General Mills began using the label on its Yoplait yogurt packaging in July 2012. The How2Recyle Label on its eight-count fridge pack, for example, provides recycling instructions for the paperboard carton, plus the plastic cup and its foil seal.
At Kellogg, How2Recyle Labels began appearing on Kashi and Kellogg brand products in April 2013. "We continually look for ways to educate consumers on the recyclability of our packaging materials," says Melissa Craig, manager of packaging engineering at Kellogg. "Consumers need clear, concise communication when it comes to recycling, so materials that can be reclaimed don't accidentally end up in landfills. This label helps ensure all packaging components are recycled, as intended, to further reduce the environmental impact of our products and promote conservation."
Kellogg uses the Widely Recycled Paper Carton and Store Drop-off versions of the How2Recycle Label. The latter indicates the bag inside its cereal boxes may be recycled with the carry bags collected for recycling at many retail outlets.
Cartons for Kellogg products also carry the 100% Recycled Paperboard symbol, licensed from the 100% Recycled Paperboard Alliance, Inc. This identifier helps consumers link the act of recycling with the need to provide a market for recycled materials by buying products made with recycled content. Fees to license use of the How2Recycle Label system range from $2,000 to $6,000 and are based on company size and SPC membership. 
For more information:
Anne Bedarf, Sustainable Packaging Coalition,
434-817-1424, ext. 314, anne.bedarf@greenblue.org
Paul Schutes, Recycled Paperboard Alliance,
202-347-8000, info@rpa100.com