Dry Processing
Bulk bag unloading station
The Volkmann BBUone bulk bag unloading station delivers dust-free material flow from the bag to the vacuum conveyor and downstream processes. It has a low-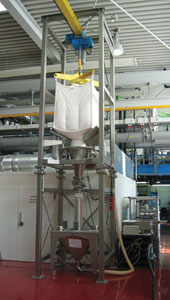 profile pickup and dust-tight connector to the feed hopper. The discharge chute keeps product flow contained and prevents waste material that has collected on the underside of the bulk bag from entering the product flow. The station is available either in a forklift or hoist version.
Volkmann; 609-265-0101; www.volkmannusa.com


I want to hear from you. Tell me how we can improve.