New Products
Technology Sourcebook
Seasoning system
Used to season potato chips, nuts, crackers and other snacks at the point-of-packaging, the Heat and Control FastBack on-machine seasoning system allows different flavorings to be applied at each weigher/bagmaker without the risk of cross-contamination. Load cells measure product delivery for consistent application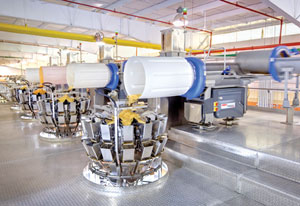 rates. Rotary gates distribute proportional amounts of product and modulate product flow for small and large bag production. A seasoning applicator continuously adjusts the flow of seasoning to match product throughput. A seasoning tumble drum is built into the horizontal motion conveyor's pan to eliminate product drop points.
Heat and Control, Inc.; 800-227-5980; www.heatandcontrol.com


I want to hear from you. Tell me how we can improve.