New Products
Technology Sourcebook
Drum/tote heaters
Benko Sahara Hot Box Model E8 electric drum and tote heaters feature digital controls with independent over-temperature protection. Able to be transported with a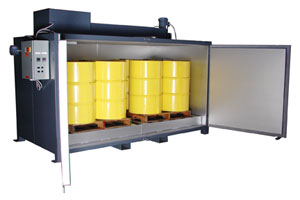 forklift, the heaters have a built-in spill 104-gal. containment pan and a capacity of 8,000 lb. They include steel construction, including 304 stainless steel as an option, and a 1,020 cfm air circulation blower with controls. The exterior of the units features acrylic enamel; the interior is finished with heat-resistant silver.
Benko Products, Inc.; 440-934-2180; www.benkoproducts.com


I want to hear from you. Tell me how we can improve.