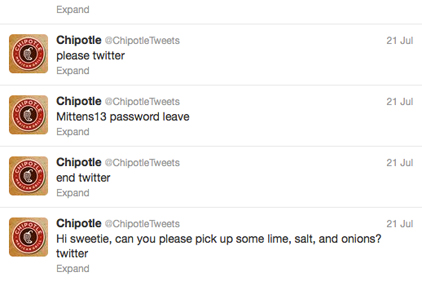 When the Twitter handle for Mexican fast-casual restaurant Chipotle started posting strange messages on July 21, it appeared to be the latest high-profile account hack. The messages, some of which may be seen above, swapped Chipotle's usual carefully hashtagged tweets for staccato nonsequitors, including one apparent missive for a loved one to pick up some lime, salt and onions. An account administrator eventually apologized for "a little problem on the account" after 12 of the strange tweets.
But Chipotle spokesperson Chris Arnold now says the tweets were part of a social media campaign associated with the restaurant's 20th anniversary celebration. "The idea was to do something with our social media that would get people talking and that would fit well within the context of the 20th anniversary that we are doing," says Arnold. "This is far more hoax than hack." The company's 20th anniversary promotion includes a multi-stage online scavenger hunt, and hidden in the Twitter messages was the answer to one puzzle—the list of ingredients in Chipotle's guacamole.
Chipotle says the stunt was a success, helping it gain roughly 4,000 new Twitter followers and 12,000 retweets in just a day. Chipotle says it usually gains between 250 and 300 new followers per day.