New Products
Technology Sourcebook
Cup/tray filling lines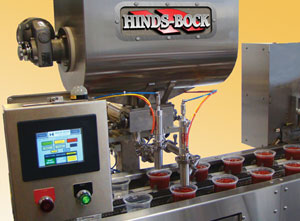 Available in single or multiple lanes, Hinds-Bock cup and tray filling lines come with varying levels of automation, ranging from a filling machine to complete automated lines including a denester, film sealer and overcap lidder. Hopper agitation is available to run serving-strength soups; a bottom-up fill option prevents mounding of viscous products. The filling lines can be used for a range of products from thin sauces to viscous guacamole with particulates, and for spreading sauce within trays or the filling of entrée items.
Hinds-Bock Corp.; 877-292-5715; www.hinds-bock.com


I want to hear from you. Tell me how we can improve.