Newcastle Hotlight, one of  Krispy Kreme's new flagship stores/bakeries in England, produces 16 varieties of doughnuts for its own onsite retail store, as well as the company's other regional outlets and retailers, such as nationwide superstores.
To keep up with these demands, Krispy Kreme recently installed a 12-lb. and a 100-lb. ZQ375 checkweigher from Avery Weigh-Tronix at its Newcastle production facility to weigh its ingredients prior to baking. Because Krispy Kreme prides itself on providing fresh doughnuts daily, any equipment it uses must be reliable, robust and easy to clean. Designed for use in the food industry, ZQ375 checkweighers meet hygienic and regulatory requirements and are certified by NSF to NSF/ANSI Standard 3-A.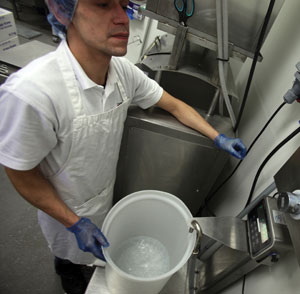 Krispy Kreme relies on Avery Weigh-Tronix's new ZQ375 checkweighers to help maintain its daily doughnut production for northeastern England. Source: Avery Weigh-Tronix.
To maintain the company's consistent product quality and high customer satisfaction, all ingredients must be precisely measured. To do this, Krispy Kreme places empty containers on the scales and then fills them with the ingredients for the doughnut batter or the fillings until the desired weight is reached.
In addition to providing accurate measurements, the checkweighers feature an IP69K-rated enclosure. This rating demonstrates the scales can be thoroughly cleaned without fear of water or particle ingress, which can cause performance failures or equipment damage. Each scale contains a smooth, polished surface finish; curved corners; and an easy-to-remove cover. This design minimizes the growth of microorganisms on the scales and limits food trap areas where bacteria can thrive.
"As a business, it's important that we get the ingredient mix correct to ensure quality," says Ollie Kane, service manager for Krispy Kreme. "The scales are constantly used as we produce fresh doughnuts daily for all of our outlets. Over the course of a week, we produce 1.3 million doughnuts nationally."
With their reliable, intuitive operation, the checkweighers provide a user-friendly solution. The easy-to-read displays offer at-a-glance weight verification, and the scales can be configured to suit individual business processes, from fast and simple standalone checkweighing to automated, controlled statistical data collection.
"The new scales are robust, easy to clean and easy to use," adds Kane. "An indicator is on top of a column on each scale at a convenient height for the operators, and the displays are very clear so operators can easily confirm the weight of the ingredient is correct."
Reliability is another key component for Krispy Kreme. Each of the new checkweighers has a torsion base that is designed to absorb shock loads and has a 500 percent overload protection. The specialized base automatically transfers shock loads and overloads away from the load cell back to the base frame, ensuring the scales' accuracy and performance are not affected.
 "We are committed to providing fresh doughnuts daily, so any equipment we have must be reliable and durable," says Kane. "In our fast-moving world, we cannot afford to let our customers down; available fresh product is part of our brand promise."