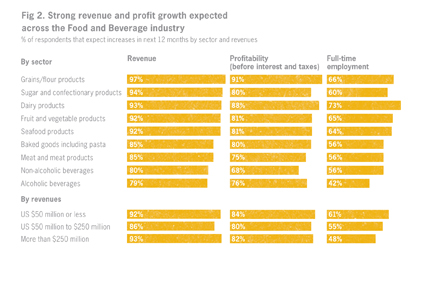 Most manufacturers see good times ahead. Source: Grant Thornton.
After years of economic uncertainty, delayed investments and hindered growth, food and beverage executives see a light at the end of the tunnel. According to Grant Thornton's Food and Beverage Study 2013, revenues, profits and employment are expected to increase in the next 12 months. However, manufacturers must selectively seek out new distribution channels, develop new products and enter new markets to most effectively minimize risk and maximize return. To undertake a successful growth strategy, processors can focus on eight survey findings and actionable insights.
The first industry trend is to do more with less. While 90 percent of executives surveyed by Grant Thornton expect revenues to increase next year, only 56 percent expect full-time employment to go up. New technologies and automation processes allow companies to approach full production capacity without hiring additional workers. However, some worry that revenues are rising primarily due to inflation, and processors may soon have trouble passing along farm and supply chain price increases to consumers, jeopardizing margins. Grant Thornton recommends producers "balance investment in growth with strategies to improve efficiency and minimize risk, primarily through automation and information technologies."
Inflation isn't the only factor creating risks for food and beverage manufacturers. Processors say they expect exports to rise from an average of 22.7 percent of current sales to 26.7 percent over the next two years. With the introduction of new markets come new challenges, including varying product regulations; logistics and transportation costs; product quality and safety risks; infrastructure to get products on store shelves; and more. However, by performing extensive due diligence before entering new markets including meeting and understanding new customers and distribution channels, these issues can be minimized or avoided.
Grant Thornton's third insight is that more than three-quarters of executives report their organizations will increase spending on equipment, new product development and IT in the next 12 months. "Some are catching up on investments shelved during the recession, while others are focusing on growth through innovations and acquisitions," says the survey. The authors recommend creating a detailed growth plan prioritizing investments based on ROI and then using that analysis to secure cost-effective financing.
Plant expansion is the top growth strategy referenced in the survey, with more than half of food and beverage executives considering expansion via M&A as a viable option for strengthening market position. "Companies are looking at how they can survive market and regulatory changes," says Dexter Manning, leader of Grant Thornton's food and beverage practice. "To do so, they have to get better at what they do best—becoming more strategic and more focused."
More than two-thirds of executives surveyed expect costs to rise in the next year, but after years of pricing stagnation, producers may finally be able to pass some of the increases on to consumers. Rising commodity prices are the most serious concern. Processors must review their supply chains to ensure the lowest cost for high-quality materials, while taking into account the financial health and stability of potential suppliers.
Increased regulatory activity is among the most commonly referenced concerns for executives. They are most concerned about environmental regulations (at 48 percent), followed by tax regulations, food labeling regulations, food traceability regulations and finally employee healthcare regulations. Some express doubt over the enforceability of proposed FSMA rules.
Unsurprisingly, Grant Thornton found premium and healthy options topped 2013 food and beverage trends. Premium or luxury goods are identified by 61 percent of respondents as a top trend, compared to 59 percent for healthy or nutritious goods; 49 percent for locally sourced goods; 46 percent for sustainably produced goods; and 44 percent for convenience goods.
Finally, food and beverage manufacturers identify supply chain risks as exposing industry vulnerabilities. Half of survey respondents say they are concerned with supply chain risks related to produce safety and quality, while 35 percent call traceability a concern. About a third of manufacturers report complete tracing of goods within a company, while another third report tracing to growers and producers.
You can view the full report here (.pdf).