New Products
Technology Sourcebook
Dual-shaft mixer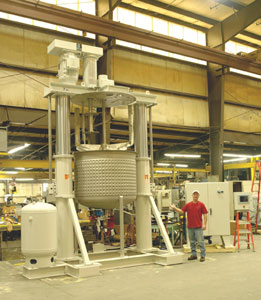 Delivering bulk flow agitation and high-speed dispersion for processing viscous pastes, gels, suspensions, slurries and emulsions, the Ross Model CDA-500 dual-shaft mixer has 2 independently driven agitators that run at different speeds. An air/oil hydraulic lift raises and lowers the agitators from and into the mix can; NEMA 12 safety limit switches prevent operation of the drives when the mix vessel or agitators are not in the proper position. A 50 psig stainless steel, 2-zone dimpled jacket enables heating and cooling of the product. All product contact points are stainless steel. The mixer has a 500-gal. maximum working capacity.
Charles Ross & Son Company; 800-243-ROSS; www.mixers.com


I want to hear from you. Tell me how we can improve.