Dry Processing
Dry Processing Technology
Bulk bag conditioning system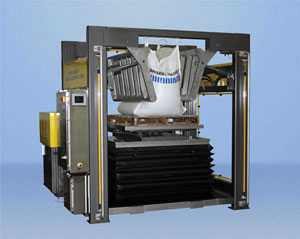 The Material Transfer bulk bag conditioning system returns materials that have solidified, hardened or agglomerated in the bulk bag to a free-flowing state. The system utilizes hydraulically actuated, pivoting conditioning arms made of twin, heavy-wall tubular 316 stainless steel. Each arm features a V-shaped tubular breaker profile that returns solidified material to a free-flowing state. A rotary lift table positions the bulk bag for complete conditioning on all sides as well as the top and bottom.
Material Transfer; 800-836-7068; www.materialtransfer.com


I want to hear from you. Tell me how we can improve.