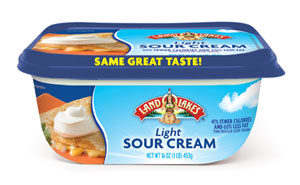 Consumers say a curved package enables them to get every last bit of product out of their dairy container. Source: Dean Foods.
Last year, some members of the dairy industry thought it hip to be in square packaging. But Dean Foods, Inc. is taking a more circuitous route. Its Land O'Lakes brand sour cream and cottage cheese products are appearing on retailer shelves throughout the upper Midwest in curved packaging.
According to Dave Haley, director of field marketing for Dean Foods Company, which has a licensing agreement to use the Land O'Lakes brand, curved packaging provides several benefits. Consumer research verified the curved bottom profile is more convenient for scooping up the product with a spoon, chip, vegetable or cracker or in other ways. Consumers stated the curved package would eliminate those "white knuckles" so common when people try to scoop out cottage cheese and dip.
Research also verified consumers find the new packaging's "stackability" a real benefit. So do retailers. The curved package enables 25 percent more 16-oz. cartons and 33 percent more 24-oz. packages to be placed on retail shelves.
The 100 percent recyclable polypropylene resin packaging addresses environmental concerns. From a sustainability perspective, the package design allows more products to fit on delivery trucks, equating to fewer trucks on the road.
The package is made by IML North America in Montreal. The company's in-mold labeling capability is incorporated into the Land O'Lakes packages for a more vivid, bright label, says Haley. 
For more information:
 Dean Foods Company, 214-303-3400