Automation
Packaging
Case Studies & Field Reports
Field Reports
DIY: Automating a donut line
Mel-O-Cream Donuts designed a simple yet robust automated packaging and labeling line to replace a manual system.
Founded in 1932 as a retail shop in Springfield, IL, Mel-O-Cream International manufactures bakery products, primarily for wholesale distribution to supermarkets and bakeries. It now produces more than 80 frozen donut items.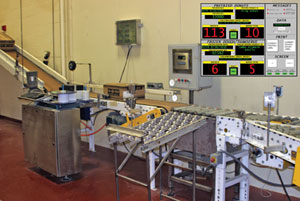 In the automated labeling line, one case has just received its label and is approaching the checkweigher. Another case is coming from the manufacturing line and is approaching the first photoelectric sensor. The inset shows the operator interface screen. Source: Mel-O-Cream.
"As donut manufacturing capacity and capabilities grew, so did the demands on our product packaging processes," says John Armstrong, director of technology & engineering. In the past, preprinted paper labels were manually glued to every case. The "best-if-used-by" date and batch code were also manually rubber-stamped to each case, according to Armstrong.
This scenario presented several operational issues. It required an extensive inventory of preprinted labels, and not having labels in inventory usually affected the production schedule. "Manual label gluing and ink stamping were messy and labor-intensive tasks. For these and other reasons, we needed to automate our manual donut packaging system," explains Armstrong.
"For this automation project, we chose a DL06 PLC, a GS2 variable frequency drive (VFD), a CoProcessor module with Extended BASIC interpreter and Ethernet Communications modules—all supplied by AutomationDirect," says Armstrong. "We envisioned an automated packaging line that would do more than just eliminate the messy and labor-intensive gluing and stamping tasks. We needed a single application that would combine labeling, weighing, validating and diverting/routing of cases. Our solution also had to be user-friendly, robust and reliable.
"We accomplished the design engineering, programming, fabrication and installation in-house—enabling us to create the system exactly the way we wanted it," adds Armstrong. "We kept our design simple by having one Excel spreadsheet to hold all the data, including label information; one PLC to control all I/O and communications; and one PC-based Visual BASIC (VB) application developed in-house with no print drivers or Active-X controls."
At the end of the manufacturing process, the donuts are inspected for quality and bulk-packaged in corrugated shipping cases. Filled cases of two different heights are sent from the two production lines that merge into a single conveyor, which transports the cases to the labeling area. From there, they are counted, labeled, validated to ensure proper labeling, weighed and routed to the appropriate palletizing area.
There are only two case sizes that enter the labeling area, with one taller than the other. Photoelectric sensors mounted at different heights identify which case is present. The packaging operator manually applies a special barcode label on the case whenever there is a batch change.
A scanner reads the barcode from the newly printed and applied label to begin the validation process. The checkweigher sends the case weight to the PLC. Then, a scanner reads the barcode of the labeled and weighed case. If the case is within tolerance, the PLC routes the case to the proper conveyor for palletizing by activating the appropriate conveyor diverter mechanism.
"We've attempted to standardize on one PLC for our automation projects," says Armstrong. "We chose products from AutomationDirect because they're very feature rich and extremely durable. The small footprint PLC's communication capability, expansion slots and great selection of add-on cards make it the perfect multitasking PLC for the majority of our automation projects."
---
For more information: Bill Fortman, Meltric Corporation,
800-824-4031, bfortman@meltric.com, www.meltric.com


I want to hear from you. Tell me how we can improve.