New Products
Technology Sourcebook
Piston filling machine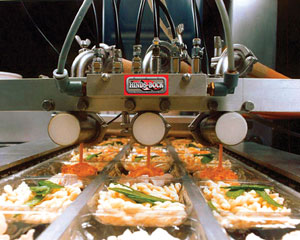 Intended for horizontal vacuum formers, the Hinds-Bock 3P-32 piston filling machine handles a range of products, from thin sauces or marinades to viscous mash potatoes or deli salads. Positive shutoff spouts maintain a clean seal zone; moving or diving spouts spread products and prevent mounding. The machine fills from fractions of an oz. up to 32 fl. oz. per piston and runs over a 1-up to 6-up package configuration.
Hinds-Bock Corporation; 877-292-5715; www.hinds-bock.com


I want to hear from you. Tell me how we can improve.