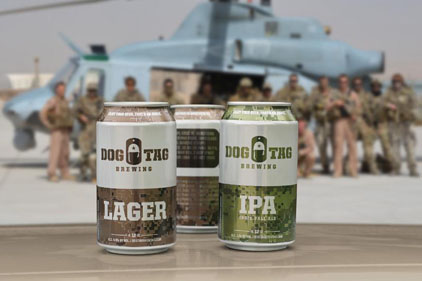 Sporting a tagline of "Enjoy your beer. That's an order," Dog Tag Brewing company has launched specialty beer cans detailing the personal stories of military personnel who have lost their lives in the line of duty.
Veteran owned, the company works with families who have lost loved ones by telling their story on its beer cans. A portion of the proceeds from beer sales are donated to organizations selected by each family.
In order to package their products with different stories, Dog Tag turned to beverage can maker Rexam. Through the use of Rexam's printing technology, Dog Tag was able to produce different graphics on a single pallet of cans. As a result, the company can tell 12 different stories in each package of beer.
"Our fallen warriors who have paid the ultimate sacrifice are not just nameless and faceless statistics, but great Americans with stories of courage and inspiration," said Seth Jordan, Dog Tag Brewing founder and US Marine Corps veteran. "We wanted to create a product that would convey gratitude to those who have made the ultimate sacrifice, and to the families they have left behind."
Currently brewing an IPA and a lager, Dog Tag Brewing said it chose aluminum cans for its beer because of the advantages it gives to their product, including durability, protection from light and portability.
The beer is available at select retailers in Montana, Wyoming and Pennsylvania. The company plans to expand nationwide.