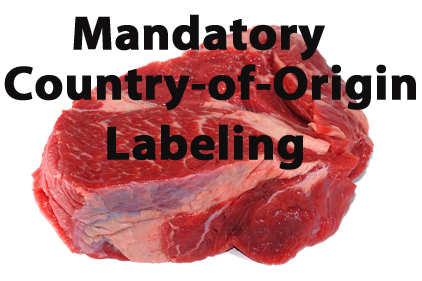 Unsurprising to many in the food industry, the World Trade Organization's (WTO) compliance panel ruled in favor of Canada and Mexico on the country-of-origin labeling law (COOL law) dispute Monday, finding the amended COOL measures treated Canadian and Mexican livestock less favorable than those from the US.
Specifically, the WTO concluded "the amended COOL measure increases the original COOL measure's detrimental impact on the competitive opportunities of imported livestock in the US market, because it necessitates increased segregation of meat and livestock according to origin; entails a higher recordkeeping burden; and increases the original COOL measure's incentive to choose domestic over imported livestock."
The COOL law requires a label to be placed on meat packages according to where a product originated from detailing where an animal was born, raised and slaughtered.
In July, the US Court of Appeals for the District of Colombia Circuit decided the law did not violate free speech.
The American Meat Institute (AMI) and North American Meat Association (NAMA) released a statement on the decision saying "the WTO decision upholding Canada's and Mexico's challenge to the US COOL rule comes as no surprise. USDA's mandatory COOL rule is not only onerous and burdensome on livestock producers and meat packers and processors, it does not bring the US into compliance with its WTO obligations. By being out of compliance, the U.S. is subject to retaliation from Canada and Mexico that could cost the U.S. economy billions of dollars."
AMI and NAMA said instead of appealing the ruling, US government agencies should work with industry and Congress to amend the COOL law so it is in compliance with international obligations.
"Such a change would help restore strong relationships with some of our largest and most important trading partners," the associations said.
The Food Marketing Institute said it was also not surprised with the findings and that they mirror many of the institute's concerns regarding the COOL law.
"The WTO decision makes it clear that there are problems with the law that only Congress can address," said Andrew Harig, director of government relations for FMI. "Rather than continuing to 'run out the clock' on the WTO process, we urge Congress to act as expeditiously as possible to bring the law into compliance with our trade commitments and put an end to the threat of tariffs by Canada and Mexico on U.S. exports."