As flexible packaging continues to become commonplace for shoppers, food and beverage processors looking to add some pizzazz to their shelf presence now have another option: custom-shaped pouches. Introduced by Mondi North America at PACK EXPO International 2014, the new product, called the Shaped Pouch, can hold either liquid or granular materials.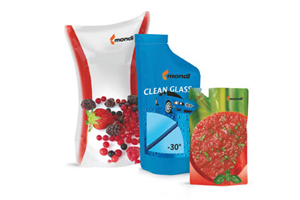 Mondi North America introduced the new Shaped Pouch for customized, high-impact packaging of consumer goods at PACK EXPO 2014. Source: Mondi.
"The shaped bag can be configured in whatever way necessary to promote a brand's identity," says Kristel Davis, Mondi marketing manager. Customization of packages continues to be a top trend for food and beverage manufacturers.
"Every customer wants its own packaging," says Phil McKiernan, vice president of consulting services with HAVI Global Solutions. To address the product differentiation trend, Mondi is offering this solution, which has been designed to have a high marketing impact.
"The Shaped Pouch can introduce a new product, promote brand awareness or enhance a product's shelf appeal," says Mark Gum, a member of Mondi's product development technical service group. "Our product development specialists work closely with product packagers from the initial choice of pouch shape and materials through prototyping and production. They help packagers choose a pouch shape that conveys their message and connects with consumers. Typically, the shape selected is instantly recognizable, such as the shape of an animal or familiar object like an hourglass or dog bone."   
For companies currently using rigid packaging, Davis says it can be cost effective to switch to flexible pouches, which can be flattened when empty, making them easier to ship and store.
For more information: Kristel Davis, 573-331-7209, kristel.davis@mondigroup.com, www.mondigroup.com