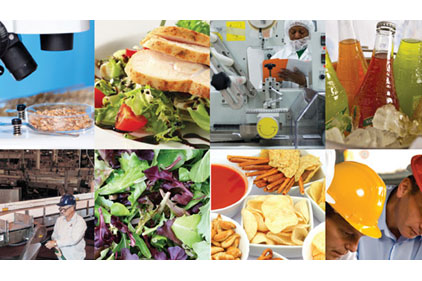 Pathogens that contaminate food supply and cause food borne illness such as Salmonella and E. coli may soon meet their match as new technological advancements are making food safer at each step in the custody chain from farm to consumer.
According to the CDC, foodborne illness accounts for 3,000 deaths in the U.S. each year. Because of these health risks, the Institute of Food Technologists (IFT) says researchers are pushing for new food safety techniques and setting goals determined to reduce these numbers, according to recent interviews IFT conducted for its FutureFood 2050 publishing initiative.
Some of these new advancements include DNA "fingerprinting" techniques and packaging indicators that IFT says will alert consumers if a product is safe to eat.  
"Regulatory agencies and food companies have much better resolution and ability today to track specific strains of organisms than they did a decade ago," says Robert Brackett, director of the Illinois Institute of Technology's Institute for Food Safety and Health. "Whole-genome sequencing [for example] is helping regulatory agencies identify discrete problems much more precisely. Beyond simply showing that there's salmonella in a food sample, we can show that it came from a certain factory in a specific place," he adds.
IFT spoke with experts in the field of food safety this month as the 12th installment in a series of interviews for FutureFood 2050, a multi-year program that highlights people and stories that are leading the charge for a healthier and safely-fed plant in 2050. The food safety experts interviewed were:
Robert Brackett: Director of the Illinois Institute of Technology's Institute for Food Safety and Health, who predicts that new gene-based tools will help pinpoint foodborne illness outbreaks in record time
Will Daniels: Fresh produce safety expert who says a variety of technology advancements are cleaning up contamination risks from farm to table
Chris Elliott: UK food fraud researcher who's waging a war against criminal threats to the global food supply
Liu Xiumei: Pioneering food safety expert in China, who sees pollution issues as the country's biggest challenge in improving food safety
William Marler: Veteran food safety attorney who believes consolidating regulatory agencies is essential for better oversight
Steve Taylor: Biochemist who co-founded the Food Allergy Research and Resource Program to support cutting-edge research on food allergies
 More information on FutureFood 2050 can be found online.