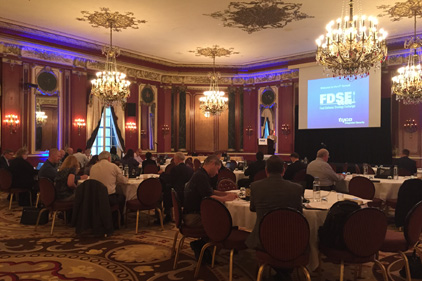 A few dozen food and beverage industry officials from an array of companies, such as Whole Foods, PepsiCo and ADM, attended the sixth annual Food Defense Strategy Exchange presented by Tyco Integrated Security at the Palmer House Hilton in Chicago, Ill. on May 19-21.
Presentations made by government regulators as well as experts from global enterprises and research institutions educated professionals concerned with security issues facing food and beverage manufacturers. The themes from the three-day event focused on preparing for the Food Safety Modernization Act (FSMA) as well as addressing risks in the global food supply chain.
"For the first time ever, the FDA is requiring companies to come up with a food defense plan," said Don Hsieh, director of commercial and industrial marketing for Tyco Integrated Security. "It is important for companies to collaborate and exchange the best ideas."
In a unique session presented by Food and Drug Administration officials, Jon Woody and Colin Barthel, attendees were not only updated on the proposed FSMA rule for preventing intentional adulteration of food, but also were asked for feedback on the regulation. The emergency management coordinator for Michigan's Department of Agriculture and Rural Development, Brad Deacon, gave an account of food defense activities at the state level and explained how the emphasis has evolved since 9-11 from preventing terrorist attacks to curbing disgruntled employees.
Col. Jon Hoffman from the National Center for Food Protection and Defense presented details on CRISTAL, a tool for food companies to document and understand their supply chains in order to see vulnerabilities. Following this, Rick Shanks from Aon Risk Solutions talked about the emerging risks and complexities of a global food supply chain.
Officials from the FBI and Department of Homeland Security explained what their agencies are doing to help food and beverage processors assess and mitigate food defense risks. Afterwards, John Spink, director of the Food Fraud Initiative at Michigan State University, presented a session on food fraud and explained why it is important for processors to create obstacles for those looking to deceive and criminally profit on the industry's losses. 
Tyco's Hsieh also held a session on how the next technology wave, known as "The Internet of Things," can play a role in building a food defense program. He said through machines talking to machines, more information can be obtained and analyzed. For instance, cargo theft is increasingly becoming a major problem for the industry since stolen food can easily be turned into cash.
"Criminals can make 30 cents on the dollar with stolen electronics," Hsieh said. "But they can make 70 cents on the dollar with stolen food."
However, with GPS sensors, companies could monitor their freight and see its location at all times. Additionally, RFID tags can be used to monitor the location of employees within a facility, especially in areas vulnerable to food adulteration and that are hard to physically isolate, such as the mixing station. The tags would alert a system when an unauthorized person enters into a restricted section.
 "The idea here is for companies to be more proactive in their food defense plans," he said.