The Sanders and Morley Candy Makers factory in Clinton Township, MI does its own molding. The candy maker buys its own plastic molds and can create from a little, square piece of chocolate a five-pound Easter bunny, explains Ron Rapson, the company's president. And recently, he got to experience that technique first hand.
"We had a project with Macy's nationwide where we molded snowmen. It was a two-and-a-half-foot tall snowman, and it weighed five pounds. And we molded 18,000 of those, one by one. It was such a big project that the team needed a little help, so the entire management group was down there helping. I was probably the slowest one, but I did help," he recalls with a laugh.
It's that kind of hands-on culture that shapes Sanders as a company.
The candy maker, which first works its way into the hearts of those who live in Michigan with factory tours for school kids, is beloved in its home state and is growing nationally. Sanders was started in June 1875 by Fred Sanders Schmidt, who opened his first chocolate shop in Detroit. And in 2002, Morley Candy Makers, Inc. purchased the Sanders brand and original recipes, adding its own rich history, which dates back to 1919.
Today, the aptly named Sanders and Morley Candy Makers produces thousands of products in its almost 40,000 sq. ft. of manufacturing space in Clinton Township. The candy maker also has 20,000 sq. ft. of warehouse storage in the back of that facility and another 50,000 sq. ft. of storage down the road.
"A lot of the Sanders recipes that we have today are as old as the company is," Rapson says. "Our finished goods portfolio is about 1,000 finished goods, but we have thousands of components we use to make those products."
The product line includes everything from its traditional dessert topping—a hot fudge recipe that has basically been unchanged for more than 100 years and is still handcrafted—to newly popular favorites like sea salt caramels. The confectionery company also isn't afraid to experiment, recently launching chocolate-covered gummi bears. While the bears are supplied by Indiana-based Albanese, the chocolate is all Sanders.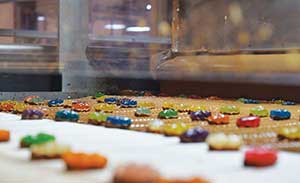 "Here at the plant, we enrobe them in chocolate, and it's been a great product for us," Rapson says. "It's different, but it's got a great mouthfeel to it. Kids love them. It's a great combination."
However, the Sanders research and development team considered the idea of bringing chocolate gummi bears to market for several months before launching the product.
"Before we could produce this item, we had the task of searching to find the right gummi bears made with better ingredients," says Brian Jefferson, chairman & CEO of Sanders & Morley Candy Makers. "This is also a 'don't knock it until you try it' type of item, so we wanted to test it first. As soon as we started sampling the product, our shoppers fell in love [with it], and we immediately knew had to bring these chocolate gummi bears to market."
Like all of the company's products, they feature a clean-ingredient label.
Sanders has had double-digit growth every year for the last decade and hopes to be a $100-million company in the next five to seven years.
"For our products, we have what's called a clean-ingredient deck. So, we've taken out the trans fats, hydrogenated oils, artificial flavors and colors," Rapson explains. "And we just have natural products in our finished goods. We try to keep the ingredient deck as easy to read as possible."
Customers seem to like it. Sanders has had double-digit growth every year for the last decade and hopes to be a $100-million company in the next five to seven years.
"And that's ambitious, but we know that we can take a model that we have built here and use it to help grow to that size," Rapson says.
One of the main things that helped the company grow so much was installing two new lines in the factory. Overall, the plant has six enrobing lines, five of which are in the main building. And the two new ones were created by Imperial Design, which is based in Grand Rapids, MI. Since installing them about four years ago, they have tripled the plant's enrobing capacity.
But before the products are enrobed, many of them start in another area of the plant—the caramel room. Sanders prides itself on making its own caramel the old-fashioned way in cooking kettles.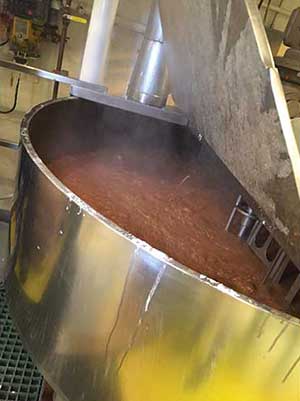 "We have three 500-gallon Chester-Jensen kettles that we cook about 18 to 20 hours a day, and we will make a batch of caramels that's about 1,800 pounds," Rapson says. "And that takes two to three hours to cook. The product is made one day, it's cooled overnight, and then the product is enrobed the next day."
One batch of caramel uses 225 gallons of fresh cream.
"That's the basis of our caramel. It's really just scorching that cream or caramelizing that cream," Rapson says. "Cooking caramel is a very tedious and slow cooking process, but that's how you have to do it."
If the caramel is slated to be included in a candy, it's then extruded and cut, and the Imperial line can do about 35 cuts per minute. That product is then placed on a line and goes through a pre-bottomer, where the chocolate is applied to the bottom. Then, it goes through a cooling process and is enrobed, where chocolate is applied to the entire piece. After that, it comes down about 45 feet of cooling tunnel before being packaged.
Sanders is in the process of automating its packaging process. A few months ago, the staff was manually filling things like chocolate-covered gummi bears into a bag, but now, they have a piece of equipment that funnels all the gummi bears into a bagging operation.
Rapson says those workers are being assigned to something else, so the automation won't result in any staff cuts.
"There's plenty of work here to do for everybody," he explains.
Part of Sanders' upgrades also has been modernizing its ERP software. Rapson can't say enough about how much of an impact the upgrade from Plex has had on the company.
"It's really transformed our business. I truly believe that," he explains. "We had an old computer system, and Plex has allowed us to go from managing a software system to getting information from our system to help us run our business."
The biggest change has been its impact on the recall process.
"We're SQF certified, Level 3, and one of the components of that certification is traceability, like mock recall audits," Rapson says. "What used to take four hours, manually grabbing information from our system … we can do a total recall in less than 15 minutes. We can go back to the original source of any ingredient on any finished good."
The upgrade also has been great for the sales team.
"We were really intrigued by the whole cloud basis," Rapson explains. "It's allowed us to really be online from anywhere in the world. In fact, for our sales team, when we're at shows, we can very easily get on our iPads and get online and be up to the minute where production is or what's going on with a particular product."
And while all these changes have no doubt had a huge impact on the confectionery company's sales, there's one more change that will likely be the most noticeable for many customers. The candy maker is in the process of upgrading the candy store in the front of the factory, which is about 30 years old.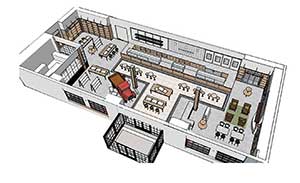 "We had a lot of great years in there, but it needed a refresh," Rapson says. "So right now, we're renovating the whole front end of our building, and the candy shop is going to allow us to enhance our tours."
The new store will increase the existing store's footprint by more than 30 percent, expand seating from 10 people to more than 125 people and even feature new, interactive features like a chocolate fountain. It will also include an onsite bakery along with nostalgic touches to celebrate the company's 142-year heritage, while also using modern design to embrace a bright future.
And indeed, if the last decade is any indication, the candy company's future looks to be quite bright—and likely topped with lots of caramel and chocolate.