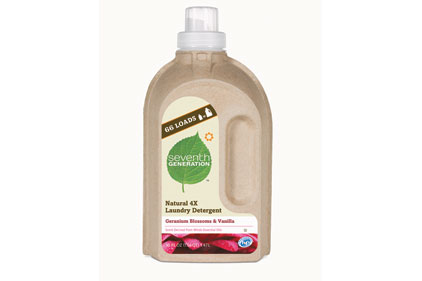 Molded paper fibers in the shape of a bottle form the exterior of the eco.bottle package, with a flexible inner pouch protecting the product. Laundry detergent is the first application. Source: Ecologic Brands.
Bag in box was such a functional success, it spread from foodservice to consumer packaging applications. Now, a California startup firm is reshaping the box and wrapping it with green credentials to form the eco.bottle container.
The bag in bottle's commercial roll out began in March with Seventh Generation, a laundry detergent distributed through Whole Foods and independent retailers and cooperatives. Target stores and other supermarket chains were expected to put the detergent on their shelves in November, according to Julie Corbett, founder and CEO of Ecologic Brands, the Oakland, CA firm she created to market the bottle.
A trial with the cardboard bottle was done last year with Straus Family Creamery, a Petaluma, CA organic dairy. According to an Ecologic representative, the novel bottle helped lift sales of the dairy's nonfat milk 72 percent at a local Whole Foods Market.
"It is true, sales of our nonfat milk increased dramatically during the test," confirmed Straus's Helen Lentze. "We only ran a small batch. We don't have the equipment to fill this kind of bottle on a large scale at our facility, but we do hope to be able to so at some point."
The container's outer shell is made of molded fiber from recycled cardboard. The spout is composed of #4 low-density polyethylene, and the inner pouch can be formed from whatever flexible film a manufacturer desires, Corbett says. A 50-oz. container was designed for home cleaning products such as detergent, while quart and half-gallon bottles target beverage bottlers and others, she adds.
Getting the bag inside the bottle requires special machinery, and Ecologic engineered a unit to combine the two elements. "We provide an integrator, after which the bottles are sent to a standard rotary filler," says Corbett. A star-wheel changeover also is necessary. "Copackers spend their life making changeovers," she says, and procuring the necessary parts is "the filler's responsibility."
Commonly used closure sizes are used, including a 38mm cap for 64-oz. bottles and 51mm for the 50-oz. detergent container. Aseptic products could be filled, she suggests, though validation of the additional equipment would be required.
Corbett credits a visit to Canada for the container's inspiration. Fluid milk commonly is sold there in flexible pouches, then placed in a reusable carafe for home use. "You don't need any instructions in how eco.bottle performs," she says. "It's tactile, it's visibly different, it resonates with consumers." USDA approval for direct contact with food and beverages is being sought. 

For more information

Julie Corbett, Ecologic Brands,
877-326-5642