Stick packaging (flexible pouches typically filled from vertical form-fill-seal machines) can be a particularly dusty business with the transfer of fine particles and powders into the hoppers of the packaging machine.  At T.H.E.M. (Technical Help in Engineering and Marketing), a packaging solutions provider and copacker based in Marlton, NJ, dust and its associated housekeeping had become a major problem.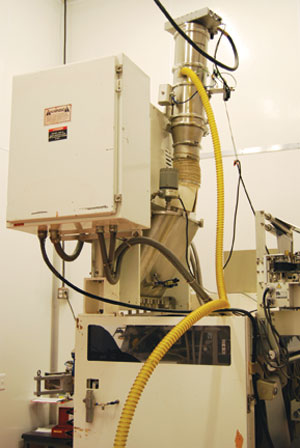 Product is suctioned from containers by the VS200 positioned on top of a Sanko filling machine. Product then flows through the Sanko machine into stick packs. Source: Volkmann
The single-serve, on-the-go aspect of stick packaging has made it a popular choice for leading consumer products, including powdered beverage brands, snack items and nutraceuticals. As a result, T.H.E.M. handles the wide variety of materials diverse clientele brings to it in pilot and larger production runs within its seven-room production area, housing 15-20 filling/packaging machines of varying sizes. 
Such production diversity can be a nightmare when handling food powders. Dust becomes quickly airborne and readily affixes itself to machine parts, slowing down the ability to effect the quick changeovers needed to maintain manufacturing efficiencies in small run production, and leaving a less-than-clean manufacturing environment. 
T.H.E.M. was initially handling the transfer of powders and granules by dedicating an employee to scoop the material out of totes or hanging bulk bags directly above the packaging machine hopper. This labor-intensive hand transfer of powder resulted in significant airborne dust in this busy facility where changeovers occurred often on a daily basis. 
"Cleaning for new runs became extraordinarily time consuming," says Stephen Belko, vice president of  T.H.E.M. "Not to mention that the presence of dust throughout the production floor didn't reflect the best practices we follow, and that is not what we want to present when demonstrating our production capabilities to new customers. 
"In addition, the transfer of product by hand put workers at risk as most runs required them to be positioned on top of the machine," adds Belko.
T.H.E.M. believed vacuum conveying might provide the solution to its problems of dust and safety, but when broaching the subject with processor clients, concerns about product segregation and separation were raised. To resolve this issue, T.H.E.M. turned to a neighboring equipment supplier, Volkmann, Inc. based in Hainesport, NJ. Volkmann's sanitary vacuum transfer systems gently and efficiently transport powders in lean, dense or plug flow conditions without segregation and separation, and without dust escaping during the process.
Based on the specifications of the materials to be transferred and the physical set-up of the production equipment within the T.H.E.M. facility, Volkmann suggested its VS200 conveying system as an appropriate solution. The VS200 conveyor gives T.H.E.M. the flexibility needed for its diverse production needs by covering the required conveying distances of 16 feet, height of eight feet, a transport capacity of 400 lbs./hour for granular particle sizes of 100-500 µm and a bulk density of 40 PCF. The fact that the unit's standard, full-bore discharge valve completely isolates the valve actuator from product contact was a distinct advantage in this application.
T.H.E.M. conducted its own in-house testing on the VS conveyors. "We quickly recognized that by using the Volkmann vacuum conveying systems, we could satisfy client concerns on transfer without separation and segregation, and the facility would remain free from dust," says Belko. 

For more information:
Nick Hayes, Volkmann, 609-265-0101, usa@volkmann.info